Wales must build on former manager Gary Speed's legacy
Last updated on .From the section Football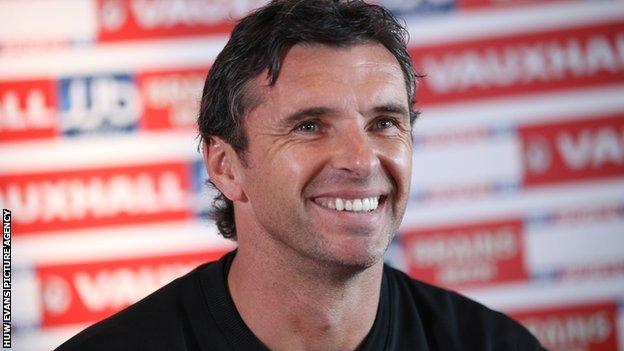 Wales are still missing Gary Speed one year after his death but must build on the legacy left by the former manager says assistant coach Osian Roberts.
Speed, who was 42 when he died, lifted Wales from 116 in the world to 48.
Roberts told a BBC Radio Wales tribute programme, to be broadcast on Tuesday: "We have to build on the foundations he put in place, that's what he'd want.
"[We] were going in the right direction and he was the reason for that. He will be missed, it still has not sunk in."
Speed was appointed manager of Wales in December 2010 and the 4-1 friendly win over Norway 11 months later - his final game - represented a third successive win for the Welsh team.
It was his fifth victory in 10 games as manager.
The rise through the ranks to 48th in the world under Speed earned Wales the 'best climbers' accolade from the sport's world governing body Fifa in 2011.
So when Speed was found hanged in his Cheshire home in November 2011, it sent shockwaves through the world of football and beyond.
An inquest subsequently recorded a narrative verdict, with the coroner saying he could not be satisfied Speed intended to kill himself.
"We've lost a very bright young manager who was going to be a success without doubt, because he had all the ingredients," insisted Roberts.
"He had that inner drive. He was a perfectionist.
"He knew he wasn't the finished article, so he was going to go from strength to strength... and who knows what we'd have done as a national team with him at the helm?
"The players believed in him. The staff believed in him and the Welsh public were beginning to believe in him.
"We've lost a great person, fantastic man, intelligent, funny, sensitive.
Under Speed's successor Chris Coleman Wales have struggled for form, winning only one match, with World Cup qualifying hopes now extremely remote.
However, former Wales striker John Hartson, who is also an assistant manager says Coleman is the right man to have replaced Speed, and people need to be patient.
"We've lost somebody we all had faith and trust in," said Hartson, who played 51 times for Wales.
"It's been a struggle to get results, in particular. In international football it is very hard to get results. You need to get your best players out all the time. You need to get a system everybody is comfortable with.
"And you need the respect of the players and I think Chris has that and he will get it. So I think we have the right man in charge. People have to be patient with him.
"You must not forget Gary lost his first five games in charge of the national team.
"It's been a struggle to find the right man to take over from Gary. Chris was the right man.
"I believe we have got the right person, I think given time Chris will start turning around results and we had to move on as a nation and the players have really, really felt his loss."
Hartson said Speed's death had especially been a struggle for some of the younger players.
"Welsh football - it's been dealt a massive blow," he continued. "We've lost somebody we all had faith and trust in to take us places," he said.
"But we are where we are and we have to strive and keep going really.
"They [the players] felt so so close to him. He had all their respect.
"These players are still very young, we must not forget that. So, it was a big, big blow to them to lose their manager."
Gary Speed: One Year On is on BBC Radio Wales, 27 November at 19:00 GMT