Gillingham's Danny Jackman shrugs off defeat by Exeter
Last updated on .From the section Football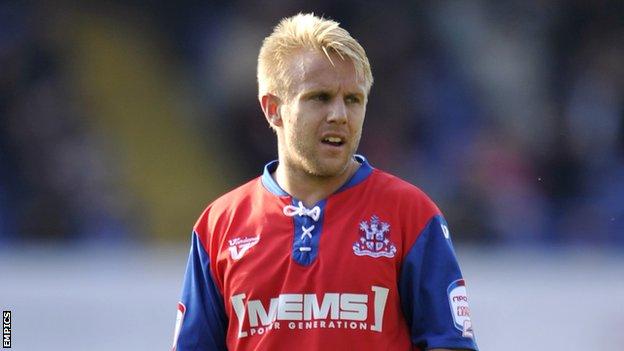 Gillingham midfielder Danny Jackman has dismissed their 3-2 home defeat by Exeter as a "small blip".
The loss cut the club's lead at the top of League Two to four points.
Jackman, 29, told BBC Radio Kent: "It's a small blip. We're still top of the league and we're still a few points away from other teams.
"We didn't help ourselves at times and weren't at the level we've set ourselves. We are confident we are going in the right direction."
The home reverse was only Gillingham's second defeat in their last 10 league games.
"We are setting the pace at the minute and it's in our own hands," Jackman continued.
"We can't dwell on this too much. Because of where we are in the league and we were at home, everyone expects us to win every single game.
"We expect ourselves to do that and sometimes we have to play with our heads a little bit more.
"We've got a strong mentality, a strong group and a strong squad. We need to go back to the start of the season and what we were doing well."
Gillingham manager Martin Allen also backed his side to move on quickly from the defeat.
"There were a lot of good things that happened and a lot of good performances," Allen told BBC Radio Kent.
"We don't ever build up any game. We just go to the next one.
"We just ask for the same level from the players and don't get too up or too down.
"There's not been any boot-throwing in the dressing room. It's more a question of living with it and learning from it."