Greg Abbott admits pressure is on at Carlisle United
Last updated on .From the section Football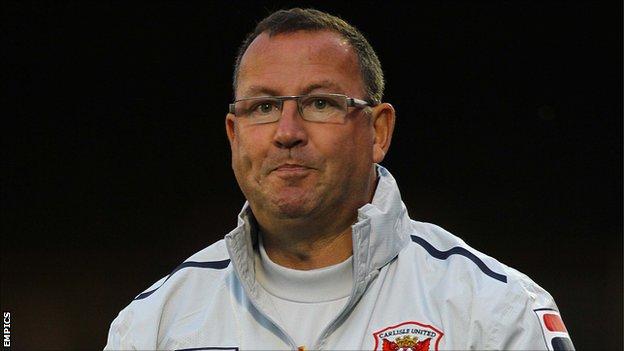 Carlisle United manager Greg Abbott has admitted the pressure is on after a third successive defeat.
The 3-1 loss to Doncaster left the Cumbrians without a league win in five games and just two points above the League One relegation zone.
"I'm a manager who is under extreme pressure because of the run that we're on," Abbott told BBC Radio Cumbria.
"I accept that, but I'm not going to duck, cheat or hide, I'm just going to work with what I've got."
The latest setback followed a
"I don't think we can drag anymore out of the players than we did tonight," Abbott continued.
"You've got young players there, players fighting for their lives giving everything they've got."
"I'm looking at two sets of players today, theirs and ours, and with the people we've got sat on the treatment table, they're stronger than us.
"There will always be grumbles because we were beaten, but knocking players and destroying confidence are things that won't make the situation better.
"They're upset because they put in a shift and got nothing out of the game, but they've got to do it again on Saturday and try to get a result."
Abbott faces a dilemma over the future of striker Joe Garner, whose two-month spell on loan from Watford has come to an end.
"We've got to work out just how to deal with that situation," Abbott added.
"We're looking at depth of squad and Joe is gobbling up a bit of the money, but do we keep him and not do anything else, or let him go back and get two or three numbers in.
"We need depth to the squad but we need Joe's goals, and presence but I don't think extra money is coming in.
"It's a juggling act, we need to let one or two of our players to go out on loan, but we can't do that over a 24 hour period."