David Beckham in Major League Soccer: what is his legacy?
By Sean Wheelock
US-based football expert
Last updated on .From the section Football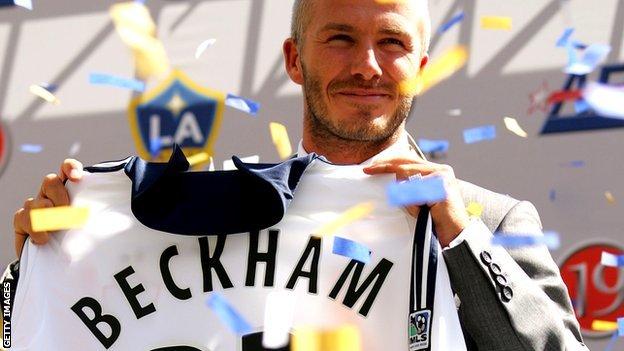 On 12 January 2007, David Beckham was officially introduced as the newest member of Los Angeles Galaxy, with the evident implication that he was the man who would single-handedly take Major League Soccer - and the sport of football in the United States - to the next level.
Now what that next level would be was of course open to speculation. But it was crystal clear Beckham was not simply brought in from Real Madrid to help LA Galaxy win trophies.
Sure there had been other major milestones for football in the US: the creation of MLS's predecessor, the late, great North American Soccer League (NASL) in 1967; Pele joining New York Cosmos in 1975; the US reaching the 1990 World Cup and hosting it in 1994; the launch of MLS in 1996. This, however, was meant to surpass them all.
"David Beckham coming to MLS might be viewed by some as one of the most important moments for soccer in this country and perhaps the history of professional sport," said MLS Commissioner Don Garber at the time.
Beckham, for his part, told the assembled international press that his goal was "to change history really".
I was there when Beckham arrived, doing a special report for BBC World Service Radio's World Football programme. I was there providing commentary on BBC Radio 5 live when Beckham made his debut six months later in a friendly against Chelsea. And I've been covering this unfolding story - make that saga - ever since.
What I've seen is a footballer who was at times brilliant, at other times apathetic, and generally good to very good. What I never saw however was someone who changed history. Not even close.
US sport is clearly and proudly obsessed with numbers, so let's turn our attention there.
Heading into the 2012 MLS Cup Final on 1 December - Beckham's farewell match for LA Galaxy and the MLS one-off championship/season ender - the former England captain has appeared in 117 matches in all competitions, scoring 20 goals.
But Beckham of course was never about goalscoring - highlight-reel free-kicks aside - so instead consider this....
Since joining LA Galaxy, Beckham has never been named the league's top player and made the MLS Best 11 just once, although the 2012 Best 11 has not yet been announced. Add to this that Beckham was never shortlisted for MLS Most Valuable Player and, perhaps most telling of all, was never in six seasons even awarded LA Galaxy's footballer of the year honour, losing out to the likes of Chris Klein and Edson Buddle along the way.
To his credit, LA Galaxy are headed to their third MLS Cup final in Beckham's spell and enter as defending champions. And there are plenty off-field stats Galaxy can point to.
These include average attendance across the MLS increasing from 15,500 per match in 2006 to 18,800 in the current campaign. There were 13 clubs in the league when Beckham first played for LA Galaxy. There are now 19. And the price to purchase a new "expansion" MLS club is now reportedly $100m, where the mark was widely believed to be around $10m pre-Beckham.
Yet how much credit really goes to Beckham is open for debate.
Back to Pele, who - no debate - clearly propelled football in the US to new heights. In 1974, the year before the great Brazilian joined New York Cosmos of the NASL, the club had an average home attendance of 3,500. In 1977, Pele's final season, their average home attendance had climbed to a staggering 34,100. The year before Pele arrived, there were 15 clubs in the NASL. By 1978, after Pele's full impact had been felt, the number was 24.
It may be unfair to compare Beckham with Pele - and the mid-70s with now - but that was the company line put out by MLS, LA Galaxy, the club's owner AEG and Beckham's management company 19 Entertainment back in 2007.
Why else would there have been that now debunked press release that stated Beckham's initial five-year LA Galaxy contract would be worth a total of $250m, when: a) the real number was $6.5m annually; and b) MLS had and still has a strict policy against publicly releasing salary information? Why else would Garber have indulged in such hyperbole?
They created the expectation, so compare away, fairly or not.
There is no doubt football in the US and MLS are both in a much better, healthier, and more popular place than they were in 2006.
A great deal more people now care about the league - in the US, Canada and worldwide - than they ever did before. The standard of football is better, revenues and player salaries are way up, and there is a respect - albeit still somewhat grudging - for MLS that previously failed to exist.
Did Beckham add to all of these positives? Absolutely. Was he the sole or overwhelming reason for them? Not a chance. I've already spent a lot of time on stats, but here are just a few more.
Last year's MLS Cup final, in which Beckham's Galaxy beat Houston Dynamo, attracted 1.04m television viewers in the US. To put that in perspective, the 2010 World Cup final had a US television audience of 24.3m viewers, while the 2011 UEFA Champions League final had a US television audience of 4.2m viewers. For even more perspective, the same day that Beckham was winning his first MLS championship last November, a tape-delayed broadcast of Chelsea against Liverpool attracted a US television audience of almost 1.7m viewers.
Goodbye David Beckham. It was a pleasure - mostly - to have you in MLS. The league and the sport here in the US are better for your having been with us over the past six years. I'm sorry, though, that you weren't able to "change history really". Hey, it was worth a try.