Shakhtar Donetsk striker Luiz Adriano charged after goal
Last updated on .From the section Football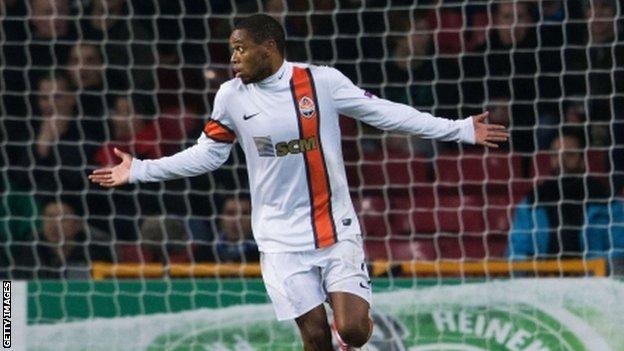 Shakhtar Donetsk striker Luiz Adriano has been charged by Uefa after his controversial goal in the 5-2 Champions League win at Nordsjaelland on Tuesday.
Adriano scored a hat-trick in the win, with his first coming after Willian attempted to return the ball to the opposition goalkeeper from an uncontested drop-ball.
A Uefa statement said: "Luiz Adriano faces charges for violation of the principles of conduct."
His case will be heard on November 27.
Adriano's opener came after play was stopped for a home player to receive treatment.
Willian then cleared the ball downfield when play resumed, but Adriano ran on to the ball to score - which prompted an angry reaction from the Danes.
There was then confusion when Nordsjaelland kicked off, with Shakhtar initially standing off and allowing them to dribble towards goal before making a tackle and playing on.
Shakhtar coach Mircea Lucescu said after the game: "I asked my players what happened. Adriano said: 'It was instinct, I see the ball and I dribbled and I scored a goal'.
"We wanted to let them score, there was big confusion in the team. They deserved to score, it's a pity that this happened. I'm sorry."
Nordsjaelland coach Kasper Hjulmand said: "I don't know if Shakhtar are bandits, but some of their players, bosses and coaches are without morals.
"In my world it's unsportsmanlike conduct and a red card for Luiz Adriano would have been quite appropriate.
"[If my team did that] I would have called the team to the side and told them to give away a goal. I would have done that, 100%."
Arsenal offered to replay an FA Cup match against Sheffield United in 1999 when Nigerian striker Kanu scored in similar circumstances.