Sacking Di Matteo 'just another day' at Chelsea - Andre Villas-Boas
Last updated on .From the section Football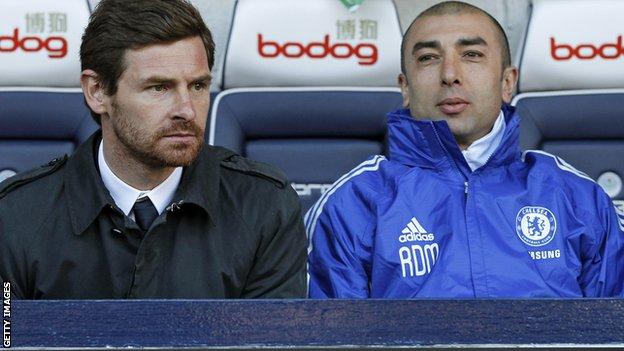 Andre Villas-Boas has labelled Chelsea's sacking of Roberto Di Matteo as "just another day at the office".
Villas-Boas lasted nine months as manager at Stamford Bridge before being sacked in March and replaced by Di Matteo.
"It's their decision, it's what they think will take them forward," Tottenham manager Villas-Boas said.
"At Chelsea, I think another sacking is just like any other day at the office. That's my interpretation."
At 262 days in charge, Di Matteo lasted six days longer than Villas-Boas did before the former Porto manager was given his marching orders by Chelsea owner Roman Abramovich eight months ago.
Abramovich has now fired seven managers since he bought the Stamford Bridge club nine years ago.
Villas-Boas said he had sympathy for the former West Brom manager.
"He has achieved so much in such a little amount of time," he added.
"His CV is maybe one of the best in the world now - he has won the Champions League and the FA Cup too.
"It was difficult for Robbie and I wish him well for the rest of his career."
Villas-Boas was appointed Tottenham manager in July while and former Blues boss Carlo Ancelotti has also gone on to secure a job at wealthy French giants Paris St-Germain.
"Most of the managers that have recently left that club have moved on to other positions," he said.
"We are grateful for having been through that club and through that experience, now all of us are in different situations with different clubs moving on with our careers.
Villas-Boas added: "I haven't spoken to (Di Matteo) because my focus is absolutely on Tottenham.
"I have a relationship with Robbie and when appropriate we will have a conversation, but I'm not in a position to offer any advice."