Rangers: newco down to HMRC incompetence - Craig Whyte

By Chris McLaughlin
Senior Football Reporter, BBC Scotland
Last updated on .From the section Football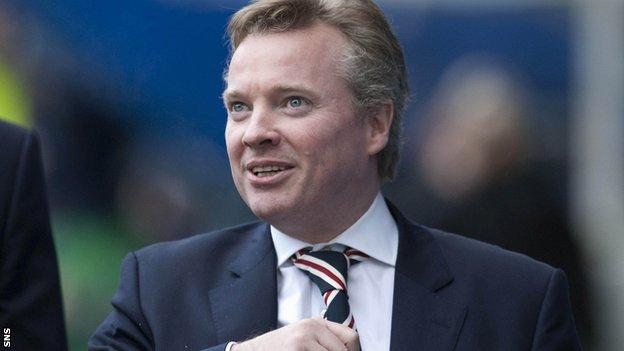 Former owner Craig Whyte believes Rangers would have survived if the tax authorities had agreed to do a deal with him when he took over at Ibrox.
And Whyte claims HM Revenue and Customs behaved like they wanted to put the club out of business.
"It would've been completely different if they had agreed a deal," he said. "They just weren't interested."
Whyte took over at Rangers in May 2011, buying the club from Sir David Murray for £1, while the tax liability was in dispute.
However, in February, the Ibrox club were forced into administration by HMRC over the Whyte regime's non-payment of tax totalling about £14m.
"As soon as I took over, I approached them with a payment package that assumed we would lose the big tax case," Whyte told BBC Scotland.
"But it was like they were determined to put the club down and make an example of us.
"As my time in charge continued, I again approached them and offered a deal that would have incorporated the PAYE and the big tax case but again they refused."
With Whyte handing over his controlling interest in Rangers to a consortium led by Charles Green in May, HMRC subsequently rejected proposals for a creditors agreement, that would have paid back nine pence in the pound in a best-case scenario, and allowed the old club to continue.
As Rangers were set for liquidation, administrators Duff and Phelps then negotiated a sale of assets to Green's group for £5.5m.
Green and his associates were able to form a new company, now playing in the Third Division, after an application to join the Scottish Premier League was rejected.
"The fact that there is now a newco Rangers is down to their (HMRC) incompetence," added Whyte.
Last month, in a BBC interview, Whyte asserted that Murray and the old board of directors were to blame for the demise of the club, describing the use of the EBT scheme as "ruinous".
He said he was only "driving the train when it crashed" and did not set it on its path.
Green recently said Whyte aims to sue for money he believes he is entitled to for agreeing to transfer his shares, which ultimately were not needed for the formation of a new club.