Arsene Wenger wants top spot in Champions League group
Last updated on .From the section Football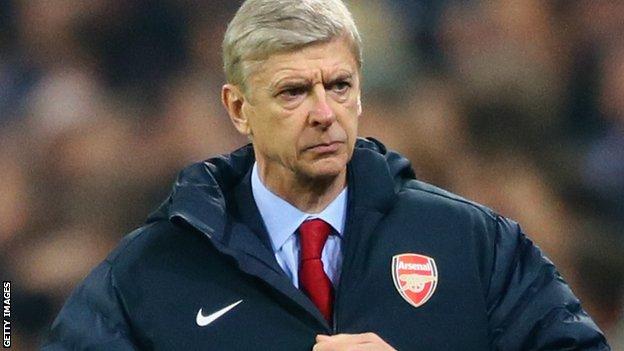 Arsene Wenger plans to field a strong team in Arsenal's final Champions League group match, despite having already reached the knockout stage.
The Gunners made the last 16 with a 2-0 win over Montpellier, but they travel to Olympiakos on 4 December second in Group B behind Schalke.
"We will play to win, to finish top of the group," said Arsenal boss Wenger.
"We will try to win at Olympiakos and Montpellier can beat Schalke at home. We will take a full-strength team."
Wenger's side are through to the knockout phase for the 13th consecutive season and will be hoping for a kind draw.
Finishing top of the group would see them face a runner-up from another pool, while ending up second will hand them a group winner.
Arsenal have finished second in three of the last five seasons, although they came top in 2011-12 and were drawn against AC Milan, who won 4-3 on aggregate to reach the quarter-finals.
"If you look at some groups, like the one with Dortmund and Real Madrid, you don't really know whether it is better to finish first or second," explained Wenger.
"But overall statistically it is still better to finish top because you feel you've done better if you finish top of the group."
After a disappointing first half against Montpellier, Arsenal took the lead through Jack Wilshere and Lukas Podolski sealed the win.
In Germany, meanwhile, Schalke overcame Olympiakos to ensure their progress alongside the Gunners.
"We needed two good results - our result and the Schalke result - and we got both so obviously we're happy," Wenger added.
"The first half we had problems in the transitions to go from defence to attack and in the second half it was better.
"We moved the ball quicker, made more incisive runs and scored two goals. There was one for Wilshere, which I am pleased about because after such a long time out [injured] it is great to see him getting stronger and stronger. The second was fantastic by Podolski."