Uefa Regions Cup: Culkin believes Jersey's England can win group
By Tim Pryor
BBC Radio Jersey
Last updated on .From the section Football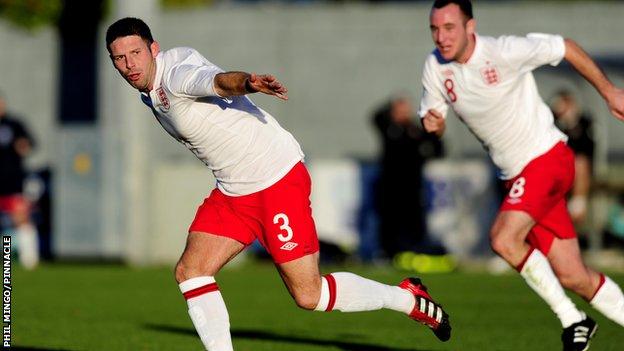 Craig Culkin says his Jersey squad can be the first England side to make the final stages of the Uefa Regions Cup.
Jersey represent England in the second stage of the tournament in March against amateur teams from Northern Ireland, the Republic of Ireland and hosts San Marino.
Jersey won the right to wear the Three Lions by
"We hold no fear, we will be going to San Marino better prepared than ever," Culkin told BBC Radio Jersey.
The winner of each of the eight second groups goes on to the tournament finals later in 2013 which will be hosted by one of the qualifying countries.
England's last two representatives, Guernsey and the Southern Amateur League, both finished third in their groups.
"Training started in September once a week and the boys are really starting to gel as a squad," Culkin added.
"Team spirit is good and there is a belief amongst us that we have what it takes to win the group."
The Jersey Football Combination - the island's league system - will compete in Group Six against Northern Ireland's representatives Eastern Region, while Leinster and Munster will play as the Republic of Ireland.
Culkin could name his squad early in the new year but will not be able to include some of his younger players.
"We may have to announce our squad earlier than we would like due to the time lads will be asking to take off work," he said.
"I envisage us announcing a provisional 18-man squad in January, subject to form and injuries.
"Due to age constraints some of the younger players we've been giving an opportunity to will be ineligible.
"It's a big blow for Matt Rondel, Jamie Mourant and Jay Giles to name a few who have done ever-so-well in our outings so far and been pushing the senior players hard for a starting place."
Jersey have already begun their preparation with a against a Republic of Ireland amateur side.
Culkin hopes to arrange two further friendly matches in the coming months to help his squad prepare for San Marino.
Uefa Regions Cup - Group Six fixtures
6 March 2013
San Marino v Eastern Region
Leinster & Munster v Jersey
8 March 2013
San Marino v Leinster & Munster
Jersey v Eastern Region
10 March 2013
Jersey v San Marino
Eastern Region v Leinster & Munster