Shrewsbury Town sign West Brom defender Cameron Gayle on loan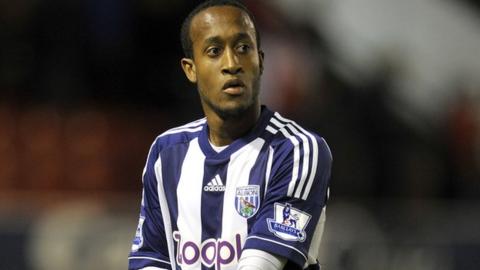 Shrewsbury Town have signed West Bromwich Albion defender Cameron Gayle on loan.
The Birmingham-born youth product has made the short move to Shropshire on his 20th birthday,
"We've seen play a number of times," boss Graham Turner told BBC Radio Shropshire. "And I'm sure that he will strengthen our squad.
Town have also terminated the loan agreements of Premier League pair Michael Hector and Jeremy Helan.
Hector, who signed from Reading on a six-month loan in July, was due to stay until January but has not featured in a matchday squad for a month.
Town had already allowed him to return to train with his parent club.
Helan, also 20, who has now joined Sheffield Wednesday, was signed on a month's deal from Manchester City on 25 October but failed to feature in a winning team in his four games.
Gayle's arrival, in time for Saturday's trip to Oldham, brings Turner's complement of loan players back up to four as he joins defenders Lee Collins (Barnsley) and Julian Bennett (Sheffield Wednesday), as well as striker Luke Rodgers (Portsmouth).
"It's been quite a strenuous couple of days in terms of phone calls," added Turner. "Most of them have been without fruition, despite certain encouragement from clubs, players and agents.
"What we've wanted to bring in hasn't materialised but it hasn't been for the want of trying. The difficulty is that we want someone to come and make an impact."