AFC Bournemouth not at financial risk - Eddie Mitchell
Last updated on .From the section Football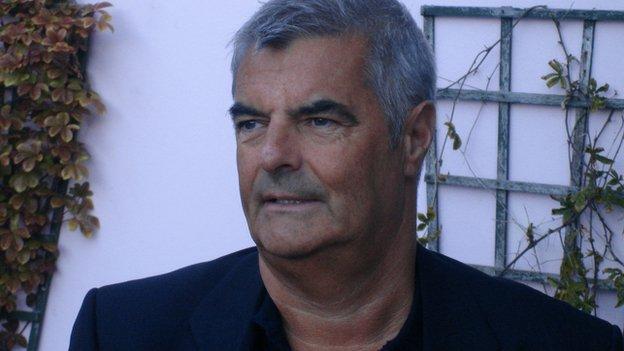 Chairman Eddie Mitchell has admitted Bournemouth are not sustainable in their current state but insists they are not at financial risk.
The Cherries have one of the largest and most expensive squads in League One despite home crowds of less than 6,000.
"It would be difficult to keep the club going forward as it is now," Mitchell told BBC Radio Solent.
"We've got to get the club to be sustainable over the next three of four years and that is my 100% target."
Money from investment and sponsorship is helping Bournemouth get under the Football League's spending cap.
Mitchell has said they are "spending money that was not coming through the gates", and earlier this year Russian co-owner Max Demin put £6m into the club.
The Cherries chairman admitted they are reliant on the investment of Demin - but hopes that will change if they achieve promotion to the Championship.
"There are supporters who want better football and that brings pressures to get better players," added Mitchell.
"And to get better players brings pressure to get more money.
"It is a circle that we recognise can put clubs in trouble, but like I have said before, this club has been in trouble twice without actually trying to get to those levels.
"So we do believe we are on the right course to make it sustainable for a long period of time."
He added: "I do not want to be dependent on other people and the club does not want to be dependent on anybody, me or Max or whoever comes into the football club.
"It has to be sustainable on its own and building support, getting bigger crowds, using the club every day of the week for conferences is an important part of that sustainability.
"But also players' wages, which is the biggest outgoing of the club, need to be controlled and this is the way we've got to look at taking the club.
"I believe we have a Championship squad within our club now. So we need to get into the Championship and therefore the wages we are paying now would be more on par with the crowds we hope to get and then it becomes more sustainable."
Mitchell meanwhile says he has no intention of stepping aside to allow a Russian revolution at the club.
Two friends of Demin were added to the boardroom this week, wealthy Russian businessmen Mikhail Ponomarev and Alexey Panferov.
Mitchell hopes they will, in time, invest in the Cherries as they look to grow the club, but he does not want to be bought out, and says wants to create a legacy for his family.
His son Tom is already director of football at the club and Mitchell senior says he hopes more of his family will follow.
"It's always been my ambition to leave a mark on the club, and a good mark and put it in good stead for whoever takes it on next," he said.
"I do believe that my close family are following my progress and joining in on my progress and hopefully one day when I am not where I am, so to speak, they will take it on and keep running it."
Mitchell meanwhile says he has not given up hope on owning the club's Goldsands Stadium, but says they will not forced to buy it until it is "realistically priced" and has reiterated that the fourth stand at the ground will not built until they are promoted.
"It would be a pointless exercise to build a stand only to look at it empty so we are in no great rush to build it," he said.
"But we believe if and when we get into the Championship we will have a enough supporters to use that stand."