James Alexander Gordon: The voice behind the classified check
By Jonathan Jurejko
BBC Sport
Last updated on .From the section Football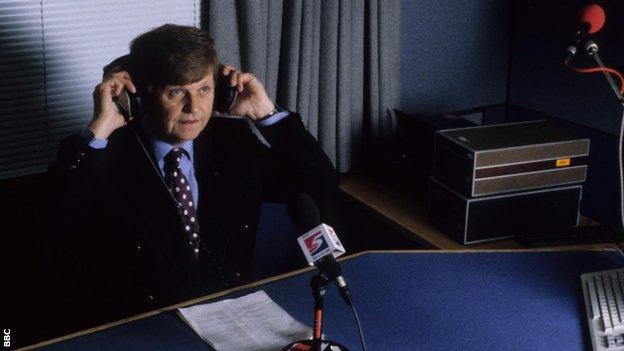 Few people would recognise James Alexander Gordon's face - yet millions of football fans instantly know his voice.
Generations of supporters have raced back to their cars at full-time to make sure they do not miss 'JAG', as he is affectionately known, reading out the classified results at the start of BBC Radio 5 live's Sports Report.
Ignition turned on, heating turned up and radio turned louder. It's a drill familiar with thousands, young and old, as they eagerly anticipate hearing how their rivals have fared.
Gordon says he aims to give them "five minutes of magic".
His distinctive Scottish accent and unique style has attracted an army of followers, including legendary comedian Eric Morecambe. He even had a Cornwall-based fan club.
The announcer, 76, is rapidly approaching the 40th anniversary of his first broadcast - but he has no intentions of retiring from the job he loves.
"They're carrying me out in a coffin," he tells BBC Sport with a chuckle.
Gordon never expected to be reading the classified check in a fifth decade. But he didn't expect to be reading the results on that first Saturday tea-time in 1973 either.
He was a BBC Radio 2 staff announcer, reading the news and weather forecasts, when he was summoned by his boss.
"He came in and said: 'Jag, footy'," remembers Gordon. "I said I beg your pardon? He said: 'Jag, footy'. I wondered what the heck he was talking about. It was the football results."
So it was a hasty brainstorm, as he sat alone in a dimly lit room in BBC Television Centre contemplating the task ahead, which shaped his future.
"I was sitting there in anticipation wondering what on Earth was going to happen," he admits. "I thought: 'How am I going to do it'. The boss didn't say you do it like this. I thought I'm on my own.
"I trained as a musician and I think music had a lot to do with the way I read them. I looked at these names and thought, unkindly, five minutes of that could be very boring for the listener. I thought it would be nice to make it a little different, with a bit of excitement.
"So I had a dummy run. There were no numbers, but I thought 'Arsenal have lost and I feel really sorry for them. Manchester United have won and I'm over the moon'. I wasn't a Manchester United fan - I was just working it out."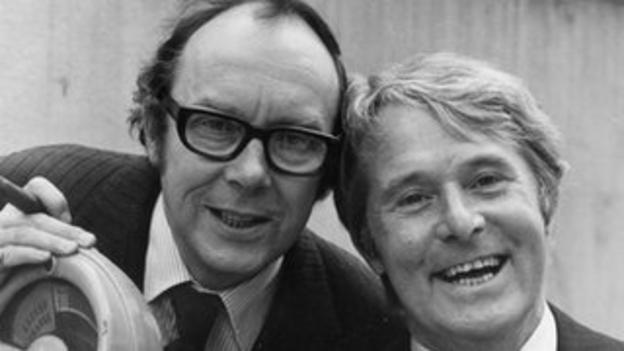 Simply adding this element of emotion was considered an innovative style. His bosses were unsure. But the public were unequivocal in their support.
Hundreds of listeners wrote letters asking the BBC to continue with Gordon.
"I thought somebody had rigged it. They asked: 'Will he do it again?' I said: 'I only did my job'. But I stuck and I'm still doing it."
Described by many as the "immortal voice of football results", Gordon says he has been approached by fellow passengers on aeroplanes and cruise ships after they have heard his familiar tones from down the aisle.
He still receives tens of letters every week, with a large proportion coming from members of the British Armed Forces serving their country across the world. They tell him that listening to the classified check is a link to home.
But his most famous fan was Morecambe, who he knew from his days as an announcer on the comic's radio show with long-time sidekick Ernie Wise.
Gordon says Morecambe always greeted him by mimicking the tongue-twister scoreline which he has become synonymous with - despite it never happening.
"Eric never called me James - whenever I saw him over a 20-year period he would say 'East Fife 4 Forfar 5'. I've got a tape of that.
"After his funeral, his wife said there was only one thing she would like to have had - me saying 'East Fife 4 Forfar 5'. It was quite sweet."
Gordon admits he does not know why he has become associated with the scoreline.
How would he react during the classified check if it happened? "Well I would have to laugh, wouldn't I?"