England: New generation can fill void, says Roy Hodgson
Last updated on .From the section Football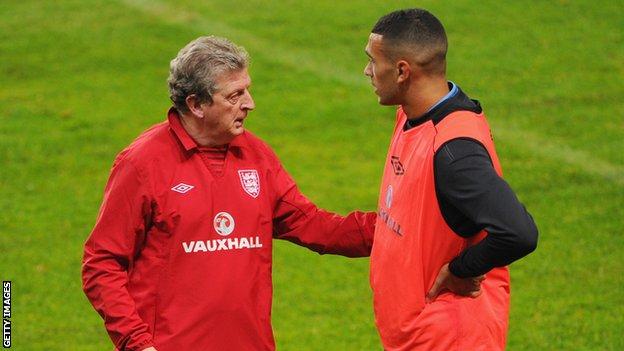 England manager Roy Hodgson says his side must work on their technical ability - and that the younger generation can help improve things.
Hodgson admits England's work with the ball at Euro 2012 was sub-standard, and that he is reliant on the "20 to 22-year-olds" in the squad to change it.
"We accept that the game is getting a lot faster, we need pace in the modern game, we need technique," said Hodgson.
"In some of the younger players coming through, we have got these qualities."
Hodgson, who was appointed England manager in May, gave debuts to 17-year-old Raheem Sterling, Steven Caulker, 20, and 20-year-old Wifried Zaha in his side's 4-2 defeat to Sweden on 14 November.
Other members of that squad included 21-year-old Danny Welbeck, 20-year-old Carl Jenkinson and Jack Wilshere, 20.
Hodgson admits his side are reliant on these players to improve his side's possession and use of the ball, but warned of the pressures of expectation.
"What it means is that you are a little bit reliant on these 20 to 22-year-olds who haven't played that many games and sometimes you can face the criticism that you are selecting a player who is maybe only a bit-part player for his team," Hodgson told talkSPORT.
Hodgson, 65, admitted his side have struggled with the ball, and that things need to improve if England are to compete at the World Cup.
"Obviously I think we need to pass better," said Hodgson.
"One of the things we thought, coming back from the Euros, that we need to improve is the quality of our passing and the possession side of our game - but possession in the right sense.
"To do that you need some players who can manipulate the ball, deal with the ball, beat a player and I'm really quite pleased that there are young players coming through who have got those qualities.
"I want an England team to go to a World Cup and compete well there and I think to do that we have got to make certain improvements."