John Hughes realistic over Hartlepool survival hopes
Last updated on .From the section Football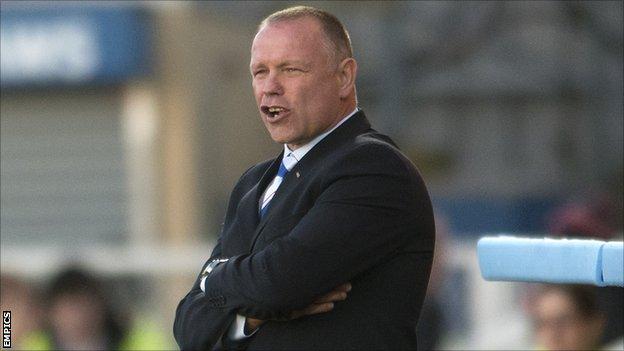 Hartlepool United first-team coach John Hughes has admitted it will take a "miracle" to achieve League One survival this season.
Pools are currently 10 points adrift at the foot of the table, without a win in 18 games in all competitions.
"It's going to take a miracle, and that's not me being defeatist," Hughes told BBC Tees.
"We'll keep digging in, I have to analyse what I see and improve things, and to keep improving."
He added: "I've been in football a long time to know a couple of wins back to back can bring confidence and momentum."
Hughes inherited a squad already down in the relegation places when he took over after Neale Cooper's decision to step down last month.
His opening two matches in charge have ended in defeat, but with visible improvement as a 5-0 home hammering by Coventry was followed up by a 2-1 loss against Oldham.
And with another 26 games to go before the end of the season, there is time on Pools' side.
"Every team that we'll play will bring different challenges, but my my main concern is getting the best out of this group of players," he said.
"They're suffering, I see them on the training pitch and they're a different animal, in training they're full of life but when the curtain comes up on a Saturday you can see the anxiety and trepidation.
"People say football evens itself over a year, so if we're carrying around our back luck at the moment there's a real chance it turns and lady luck comes with us, we can go on a run and win game after game after game.
"Football's a funny game, and if someone could give it that wee spark, hopefully that will be Saturday."