Rafael Benitez makes the right noises in taking Chelsea hot seat

By Phil McNulty
Chief football writer
Last updated on .From the section Football149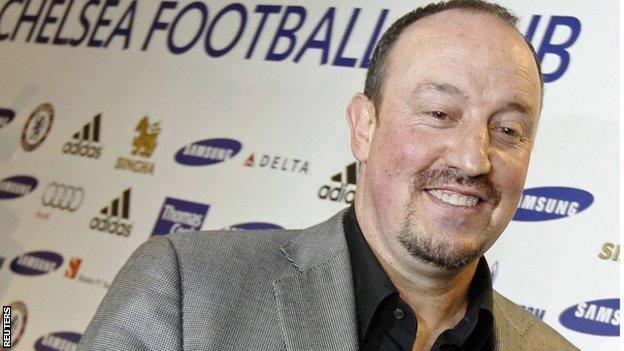 The Rolling Stones provided the musical build-up to Rafael Benitez's entrance as Chelsea manager at Stamford Bridge's Tambling Suite on Thursday afternoon.
It was a soundtrack that died away before Benitez made a belated arrival amid a haze of flashbulbs and arclights to hold up a blue Chelsea shirt - a sight that will take some getting used to.
Had Chelsea's ruthless Russian owner Roman Abramovich had a hand in the musical accompaniment greeting the world's media assembling in west London for the now regular announcement of his latest manager?
"Under My Thumb" might have been suitable mood music for the control Abramovich has exerted over the lengthening list of managers he has hired and fired while "I Can't Get No Satisfaction" may have played in the background as
All was sweet harmony between Benitez, animatedly enthused at the prospect of prowling technical areas once more after an absence of almost two years since his sacking by Inter Milan, and his new employers.
Inevitably, he declined to resist the opportunity to gag at the expense of Liverpool's former owners Tom Hicks and George Gillett, who he felt did so much to undermine him at Anfield - although his claim that life under Abramovich would be "easy" compared to his existence under the American pair smacked heavily of honeymoon talk.
The Spaniard, who was on engaging form, has had a knack for getting involved in politics at his previous clubs. He does so at Chelsea at his peril and seemed at pains to emphasise how technical director Michael Emenalo would be his link to the Stamford Bridge boardroom and as no huge promises had been made - unlike, he insisted, happened at Inter - none could be broken.
He had not even met Abramovich until a planned meeting on Thursday evening but if working to his new owner's orders held any terrors, they were not on show here. It appeared the pair had been at a distance during negotiations leading to his appointment - a state of affairs that Benitez may even like to maintain for the next few months if it means Abramovich is quietly content.
Benitez had received the message that Abramovich and Chelsea trust him to do the right things. Di Matteo will offer advice that trust does not last long at Stamford Bridge if matches are lost.
The transient nature of life as Chelsea's manager was illustrated as Benitez was preparing to meet Abramovich. A life-size portrait of Chelsea's Champions League winning team on a wall alongside the stadium had drawn a small group searching for a souvenir photograph - with one youngster detailed to stand in front of Di Matteo's image to ensure his presence would not date the picture.
"Hopefully I will see the owner and talk about things," Benitez said. "The information I have from different people is that he likes to see his team playing good football, but he is not involved every day, telling the manager to do this or that. I will take my responsibility and try to do well."
Benitez, dressed casually after meeting his new Chelsea players for the first time at a lunchtime training session on Thursday, was polished and confident on his introduction, like so many of his predecessors.
The sight of one fan holding up a rather sad "Rafa Out" banner at Chelsea's Cobham training ground hardly constituted open rebellion, but the unwelcoming reaction from supporters to a man they grew to dislike during their great rivalry at home and abroad with his Liverpool teams could not be ignored.
It was not and Benitez did not resort to a charm offensive to explain himself. Indeed, if Chelsea fans do not regard this statement as heresy, there was a touch of Jose Mourinho in the way he tackled the obvious discontent his behaviour had caused among those he now wishes to follow him.
No apologies. No excuses. He was fighting for Liverpool and their supporters against a sworn enemy and would do the same now he is managing Chelsea.
He explained: "I want to be honest. As a fan you want to see your manager fighting for his team. It is not a lack of respect for Chelsea fans, it is a manager fighting for his team and his fans. I'm sure the fans here would like to see me doing the same now that I am here, defending their club."
Whether these words will thaw the ice that separates Benitez and Chelsea's fans remains to be seen. The reception when he ventures out towards the technical area for his first game against Manchester City at Stamford Bridge on Sunday is awaited with interest.
Benitez was full of the familiar turns of phrases about analysis and solutions. He has analysed swiftly and his solution to keeping Abramovich happy and coaxing goodwill out of the many supporters unhappy to see him is a simple one. Win football matches.
And lurking in the background, the £50m Abramovich vanity purchase in the room, was Fernando Torres. One of Benitez's main tasks will be to somehow prove the owner did not sanction arguably the biggest transfer bust in British history.
Torres has previously acknowledged Benitez's influence on his career and if Chelsea's new manager can somehow fix this seemingly broken striker, Abramovich's gratitude may even be displayed with an extended contract.
He was guarded in his words about the striker who touched greatness at Liverpool. All words about Torres were framed within praise for the overall strength of Chelsea's squad.
Benitez's first glance over this squad had revealed some tweaks that could be made but he had kind words for the experienced old guard such as John Terry, Frank Lampard and Petr Cech as well young emerging talent such as Oscar. He will need both generations if he is to turn this temporary stay into something more substantial.
So all bases were covered in 30 minutes at Stamford Bridge. Benitez is happy with his new owner, happy with his new club and happy with a squad he believes can acquire at least one of the five prizes still open to them.
Will Chelsea's fans be happy with Benitez? His answer to that was: "The fans are very clever. They will say we have to support the manager because it's best for the club."
The message carried more than a few large spoonfuls of brown sugar - the real work starts on Sunday.