Egyptian Premier League made to wait on re-start date
Last updated on .From the section Football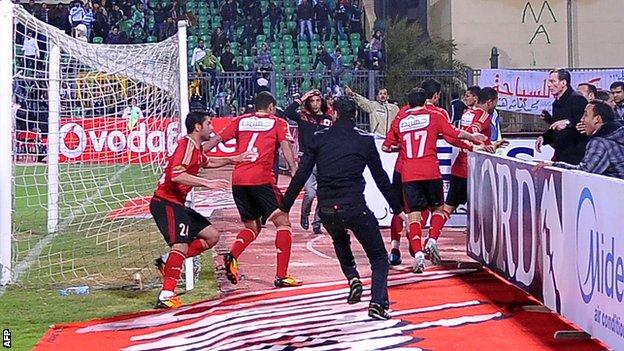 Egypt's Football Association (EFA) is awaiting word from the authorities before confirming a date for the resumption of the Premier League.
It had been reported that the Egyptian Premier League season would re-start on 15 December, more than nine months after it was suspended due to deadly rioting.
Over 70 people were killed when fans of Al Masry and Al Ahly clashed after a league match in Port Said at the start of February.
EFA board member Ehab Leheta told the BBC that they have yet to decide upon a date on which to resume the Premier League, and are unable to do so without the approval of the interior ministry.
Leheta advised that the opening week of the Second Division had passed off without incident, albeit with fans banned from the stadiums.
He suggested that this was encouraging for those wanting the return of top flight football.
Two previous attempts to re-start the Premier League - in September and October - had to be abandoned, amid concerns over security.