Anthony Wordsworth could leave Colchester United in January
Last updated on .From the section Football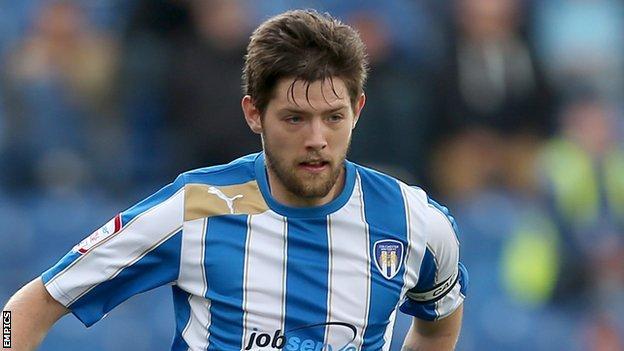 Colchester United boss Joe Dunne has said Anthony Wordsworth could be sold in January and is "surprised" the midfielder is still at the club.
The 23-year-old, who attracted interest in the summer, is out of contract at the end of this season.
"If you were to say to me 'will he leave before the end of the season?' He might," Dunne told BBC Essex.
"We want to keep our good players but ambition is a big thing in football. Will I lose Anthony? Probably?"
He added: "It's the way of football at the moment I'm afraid. I'll probably lose a few more. But you accept and understand these things happen.
"Since I've taken over he's been a top player. It doesn't bother me to say I'm surprised he's still here. "
Wordsworth has played all his senior football for the U's, proving to be an influential goalscorer from midfield.
His three goals from 21 games this season have taken his career record to 35 in 193 appearances since he made his debut in August 2007.
But he has faced criticism this term for a number of displays, although his manager has said he can be labelled mistakenly "lazy".
"I think he's on the top of his form," he said. "I've known Anthony since he was 15. I know how his brain ticks. I know how he works.
"People's impression will be he's lazy. You can think of many other players who come across that way.
"Some players can create space by being so intelligent they don't look like they're moving.
"He loves the club. He used to clean changing rooms at Layer Road. He'd clean the boots in the mucky boot room. I probably made him clean toilets at some stage.
"Sometimes I believe he comes in for unfair criticism. But Anthony's biggest motivator is himself."