Referees' union: Chelsea must apologise to Clattenburg
Last updated on .From the section Football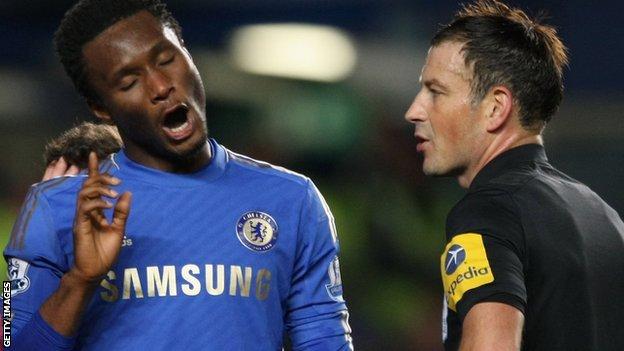 Referees' union Prospect has demanded that Chelsea apologise to Mark Clattenburg and compensate him after he was cleared of making a racist remark.
The Blues claimed Clattenburg, 37, used "inappropriate language" towards their midfielder John Mikel Obi.
The FA has now cleared the referee and Chelsea accepted the decision.
Prospect chief Alan Leighton called for "a full and unreserved apology and compensation for loss of earnings, damage to reputation and stress."
Leighton, the national secretary of the union, also called on Chelsea to make a "sizeable donation" to anti-discrimination bodies Show Racism The Red Card and Kick It Out.
Responding to the FA's decision, a Chelsea statement read that the club "accepts the Football Association's decision regarding Mark Clattenburg and welcomes the fact that the FA recognises the club and players were correct in reporting the matter."
But the Blues did not apologise directly to the referee.
The evidence for Chelsea's allegation came from their midfielder Ramires, who, when interviewed, explained his instinctive reaction had been to seek confirmation from Mikel as to what Clattenburg had said.
Mikel, 25, who was being spoken to by Clattenburg at the time of the incident, was much closer to the referee than Ramires but did not hear what was alleged to have been said.
The Chelsea midfielder has been charged by the FA with misconduct following his involvement in an incident in the referee's room after the match between Chelsea and Manchester United in October.
Leighton believes Chelsea were right to investigate the claim but should not have made the issue public.
"The charge was based on the flimsiest evidence that should never have got to this stage," he said.
"It should never have been made public and should have been dealt with confidentially.
"We are not criticising Chelsea because they investigated the complaint - they had a duty of care.
"Rather the evidence consisted of just one statement and that is why they shouldn't have gone public."
David Elleray, chair of the FA's referees committee, welcomed the decision to clear Clattenburg and praised the official's handling of the complaint against him.
"The FA's referees committee, and refereeing in general, welcomes the news that Mark Clattenburg has no case to answer," Elleray said.
"I wish to express my admiration for the professional manner in which Mark and his colleagues have conducted themselves during this very difficult time.
"Referees are at the forefront of reporting abuse on the field of play and it is important that all cases are investigated, especially when match officials are the subject of abuse.
"The case raises important issues which we will need to reflect on in the coming weeks."