Matt Bloomfield column: Yoga is the way to go

By Matt Bloomfield
Wycombe Wanderers midfielder
Last updated on .From the section Football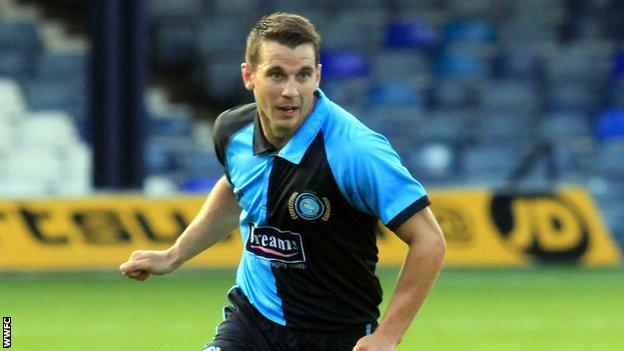 The fundamentals of football training will never change. There may be different sessions and ways of getting the point across, but the messages and practises will always be the same.
Passing drills, finishing drills, team shape and keep-ball sessions make up the bulk of a footballers' week.
However, off-the-pitch training methods and techniques are always altering slightly and being tinkered with.
Core stability is something I have heard a million times in the last 10 years. Squats and dead-lifts are also part of the strength and conditioning programme set by many physios at clubs all over the country.
One training method that has really come to the fore in recent years is yoga. We have all read about Ryan Giggs spending time out of every day to spend practising yoga.
He has even brought out his own DVD. He puts his continued fitness at the top level down to this practice.
Other players at Premier League teams are also known to have taken up the discipline that originated in ancient India.
It's something that has slowly seeped down the leagues and players at all levels of the professional game are taking up something that would have been laughed at maybe 10 years ago.
Of course I have heard players saying that it's a waste of time and it doesn't help you putting the ball in the back of the net, or passing to a team-mate.
Not everyone is going to be a fan. But I am a believer that anything that can help your fitness or can possibly prolong your career must be worth a try.
While fighting my way back to fitness from this groin strain I have had, I have taken up Bikram yoga.
It was recommended to me by a friend of mine who plays for Bath City. It's basically yoga but in a heated room.
I was a little apprehensive when I first went along but it's absolutely brilliant. You get an even better stretch because of the heat in the room. You sweat unbelievable amounts.
I have been three times a week for the past month and have definitely seen an improvement in my flexibility in that time.
I am still a long way off where a lot of the group are though. I can't help but think that I will never get to that stage. Years of wear and tear on a football pitch doesn't tend to lend itself favourably to some of the extreme positions.
Every player is different and their ways of training during the week and preparing for match day will also in relation to their bodies or beliefs.
I have known lads in an ice bath the night before a game and in bed by nine o'clock, while I have also known lads to be eating sweets playing on computer games until late.
The end result is your performance on a Saturday and how you drain every last ounce of potential out of your body for your team.