Sir Alex Ferguson: Rafael Benitez lucky over Chelsea job timing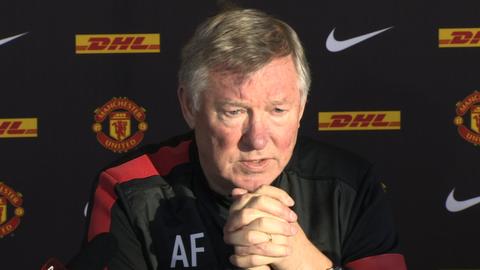 Manchester United manager Sir Alex Ferguson says Rafael Benitez is "very lucky" to be named Chelsea boss ahead of the Club World Cup.
The former Liverpool boss replaced Roberto Di Matteo who was sacked on Wednesday after eight months in charge.
Benitez won the cup with Inter soon after taking over and could do so again with Chelsea next month.
Ferguson said: "On his CV he could have two world championships and nothing to do with the construction of the teams."
The Club World Cup is contested between champion clubs from all six of the world's continental confederations.
Ferguson added: "Rafael Benitez is very lucky. Jose Mourinho won the treble at Inter; Rafa took over and they won the world title without having to do anything."
Di Matteo was sacked despite having won the Champions League and FA Cup in his short tenure.
"Everyone feels for Roberto Di Matteo, and quite rightly," Ferguson said. "It's quite amazing that you win the FA Cup and the Champions League [and lose your job]."
Benitez, 52, who was involved in several disputes with Ferguson during his spell at Anfield from 2004-2010, won the Italian Super Cup and Club World Cup during a six-month reign at Inter but was sacked in December 2010 and has not been in a managerial post since.
The Spaniard's new team are still involved in five competitions and are currently third in the Premier League, four points behind leaders Manchester City.
They travel to Japan for a Club World Cup semi-final on 13 December with the final three days later.
But first up for Benitez is a home match in the league against Manchester City.
"I hope he is lucky on Sunday too," said Ferguson.
"It happens time and time again when a new manager comes in that a team win their first few games.
"It is strange how it happens and sometimes you wonder if it encourages chairmen at football clubs to make changes because they think: 'if we get a new manager we'll win the next two or three games'."
Meanwhile Ferguson has given his support to referee Mark Clattenburg, who on Thursday was cleared by the Football Association following allegations from Chelsea that he used "inappropriate language" towards their players.
"I didn't believe it anyway," Ferguson said. "The unfortunate thing for Mark is he's had to carry that stain for the last few weeks and everyone in the game is pleased for him now, apart from Chelsea."