Rangers: SPL announces date for commission hearing
Last updated on .From the section Football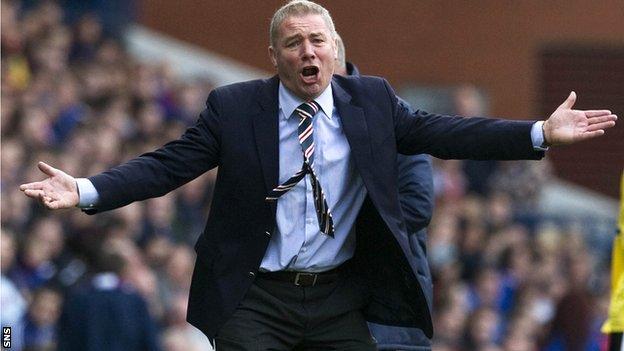 The Scottish Premier League will press ahead with an investigation into alleged undisclosed payments to players at the former Rangers club.
The independent commission, chaired by Lord Nimmo Smith, will sit on 29 January and is expected to last a week.
This week, the former Rangers won an appeal against a tax bill over its use of Employee Benefit Trusts.
Ibrox manager Ally McCoist has called on the SPL to use "common sense" and scrap their probe.
Charles Flint QC and Nicholas Stewart QC will join Nimmo Smith to rule on any possible breaches of the Scottish Football Association's regulations on player payment.
A First Tier Tax Tribunal delivered a majority verdict in favour of the former Rangers Football Club, who were facing a tax claim by HM Revenue and Customs in relation to the use of EBTs, ruling that the payments were loans that can be repaid.
And Rangers chief executive Charles Green, who has previously stated that the SPL has no jurisdiction over the new Rangers, said that the tax tribunal verdict "undermines" any investigation set up by the league.
"I would be extremely hopeful that common sense would prevail and the SPL could now drop it," said McCoist.
"It's not over yet but I hope that sad chapter will now begin to close. All we want is an opportunity to start again and move forward."
On the tribunal verdict, McCoist added: "From the club's point of view, it's one we hoped we would get.
"The overriding feeling was satisfaction and pleasure. We feel it was the right decision and we're delighted with it.
"I feel there was an element in the media and Scottish football fans who prejudged the case.
"All we wanted was a fair trial - we got that."
The SPL has more than a dozen sanctions, including stripping Rangers of league titles, at its disposal should it be decided that the old club broke rules about undeclared payments.
Such a punishment is something McCoist remains fiercely opposed to. "I was never going to accept that, never will and I still don't," the manager said.
"I'd hope disputes and differences could be resolved by dialogue between all parties."
Speaking in September, Green said that the SPL was previously willing to do a deal over the EBT claims to grant the new Rangers entry to the top flight, or give them a place in Division One, until the Scottish Football League clubs voted to place the club in Division Three.