Rory Fallon believes Aberdeen can push Celtic for title
Last updated on .From the section Football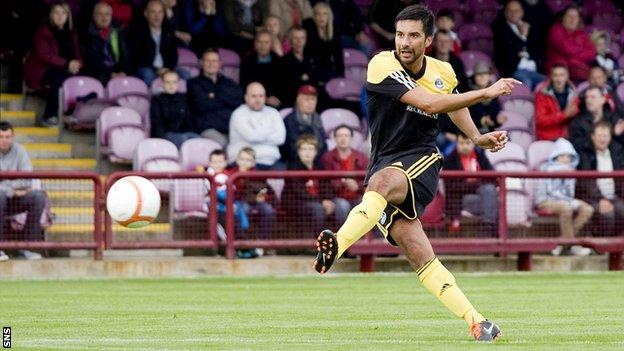 Rory Fallon believes Aberdeen are genuine Scottish Premier League title contenders.
And the New Zealand international reckons the Dons are better equipped than Hibs to push Celtic all the way.
"Some people are happy for Celtic to run off and win it, but I'm one of those guys that believe we can win it," said Fallon.
"If we don't believe we can do well and push up higher, then what's the point of even playing?"
The third-placed Dons could replace the Hibees in second spot in the SPL if they win at Easter Road on Saturday, keeping the pressure on Neil Lennon's men at the summit.
"If people believe Celtic are going to go and win it, then they're going to win it," said Fallon, who netted a fantastic goal against Hibs in the semi-final of the Scottish Cup earlier this year.
"That's not how I work. I work through belief and having faith.
"Even when the chips are down I believe we can still do it.
"Whenever I go and play a game, whether it's a training game or a proper game, I always believe I can win - that's how I'm wired."
Fallon joined Aberdeen in September 2011 and has scored seven goals during his spell at Pittodrie.
Ahead of Saturday's clash, he is adamant Aberdeen have more quality than their opponents.
"They're doing well but when they came here [to Pittodrie], I thought they struggled and I feel that we're a better team than Hibs," said Fallon.
"Whether we play them away or at home, I feel that overall we can beat them. But obviously we'll have to prove that tomorrow.
"I feel that the strikers are dragging their team along. Griffiths - he's the one that, if we stop him, then they won't score, because he's the one that's getting all the goals."
Ex-Plymouth and Swindon forward Fallon's contract expires in the summer and is eager to get back playing following a persistent stomach injury he's had since the 2010 World Cup.
After two years of not getting to the root of the problem, a specialist diagnosed it as nerve damage in his abdominal muscles and was able to bring about a remedy.
"It's just nice to train without any pain," said Fallon.
"No-one knew what it was, so it was a bit of a phantom-type thing.
"I'm just glad to get rid of it and I thank God every day that I can train without any hindrance - every day I can get stronger."