Williams comments will motivate Suarez - Joe Allen
Last updated on .From the section Football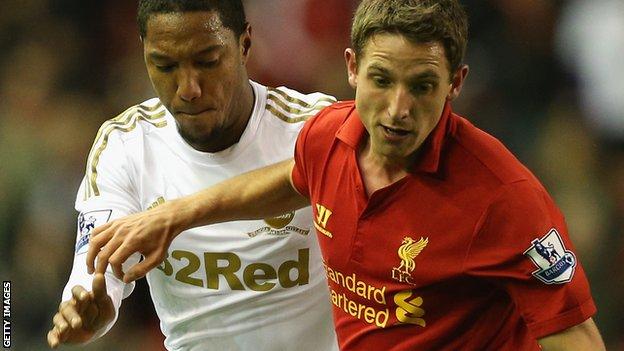 Joe Allen believes Ashley Williams' scathing attack on Liverpool striker Luis Suarez will backfire on Swansea in Sunday's Premier League meeting.
In his new autobiography, Swans captain Williams said he wanted to "knock out" Suarez during last season's game at Anfield and accused him of diving.
Williams could yet face disciplinary action from the FA for the comments.
Allen said: "It will give Luis some extra motivation, which is dangerous from Swansea's point of view."
The Football Association says it is aware of Williams' remarks about Suarez - published in My Premier League Diary - but will make no further comment on whether the defender will be charged with bringing the game into disrepute.
Williams shied away from stoking the flames further in an interview with BBC Wales this week, instead describing Suarez as the best striker in the Premier League.
But his first impressions of the Uruguayan were certainly far less complimentary, as he writes in his book that "Suarez has that aura about him that says 'I'm untouchable', and his manner and behaviour made me want to knock him out."
He continues: "The lack of respect he shows everyone means he gets no respect from me."
The pair will lock horns again at the Liberty Stadium on Sunday and Allen feels the contest will add an extra edge to the mid-table encounter.
"These sort of things happen in football and the battle between Luis and Ash will be one to watch on the weekend," he said in an interview for BBC Radio Wales' The Back Page programme.
Allen returns to the Liberty Stadium for the first time on Sunday since his £15m summer move from Swansea to Liverpool.
His transfer, which ended a 13-year association with his home-town club, made Allen Wales' most expensive player.
The 22-year-old midfielder was the second singing made by new Liverpool manager Brendan Rodgers, who had been tempted away from Swansea five weeks earlier.
Allen admits to being slightly concerned with "the pressure" that came with such a high price tag, but there was never any question of rejecting an opportunity to join the five-time European champions.
"It's the type of challenge I've always dreamed of taking on so when the chance came around I found it difficult to turn it down," said the Wales international.
"Having been at a club for so long it's always difficult to leave but these moments, such as this weekend now, [are]where you get the chance to get another taste of your home club."
Liverpool will arrive in south Wales one point below Swansea in the Premier League, a scenario Allen admits he did not envisage at this stage of the season.
The Swans have made a better start this season under new manager Michael Laudrup compared to their debut in the top flight last season under Rodgers and beat Liverpool in a League Cup tie in Anfield in October.
Returning to Swansea will be a "foreign" feeling, says Allen, and he is conscious of the need not to let the occasion rule his emotions.
"You can focus too much sometimes on the occasion rather than treating it as any other football match," he said.
"That's the key for me - to try to approach it like I would any other weekend."
Listen to the full interview with Joe Allen on The Back Page, BBC Radio Wales, Saturday, 24 November at 08:30 GMT or listen again on BBC i-Player.