West Ham: Sam Allardyce keen to capitalise on Tottenham 'fatigue'
Last updated on .From the section Football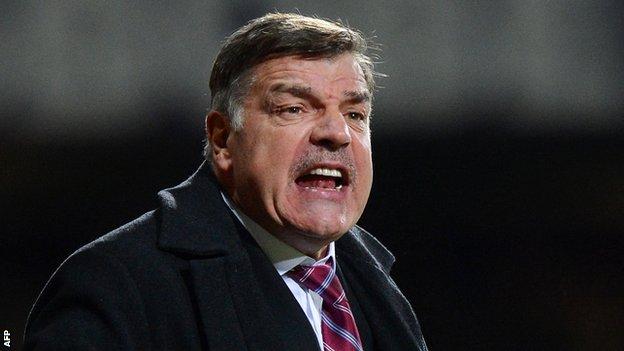 West Ham boss Sam Allardyce says he hopes his side can take advantage of Tottenham's Europa League fatigue and believes they are vulnerable at home.
"There is bound to be a little fatigue in there," the Hammers manager said.
"The encouraging thing for us is that it is not long since Wigan won there. It is has not been the big fortress Tottenham fans might have expected."
Andre Villas-Boas's Spurs side have won just two of their six league fixtures at White Hart Lane this season, and have been beaten there by Chelsea as well as Wigan. However, they have picked up nine points from 12 in the games immediately following their European matches.
Despite this record, West Ham - who sit one place and two points ahead of them in seventh - will hope the fact their own players were last in action in Monday night's 1-1 draw with Stoke will boost their chances.
"Local derbies are always very special, and fans and players closely associated with West Ham are really attracted to those type of fixtures," Allardyce said.
"Our hope is to take our game to Tottenham and cause them a few problems."
David Beckham's announcement that he will end his six-year spell with Major League Soccer franchise Los Angeles Galaxy next month has seen the Hammers linked with a bid for the former England captain's services.
Allardyce confirmed he would like to open negotiations with the midfielder - if Beckham stated he was open to a return to the Premier League nine years since he left Manchester United for Real Madrid.
"David has always said to me when he has been available that he only wanted to play for Manchester United in this country and I haven't heard him say he wants to come back to England," he said.
"It is speculation until David decides where he wants to go. I am not so sure about the situation at all.
"If David said he wants to come back to London in the Premier League, we would talk about it. I don't want to say we will or we are. It is speculation."