Arsenal will get extra money to spend after Emirates deal
By David Ornstein
BBC Sport at Emirates Stadium
Last updated on .From the section Football103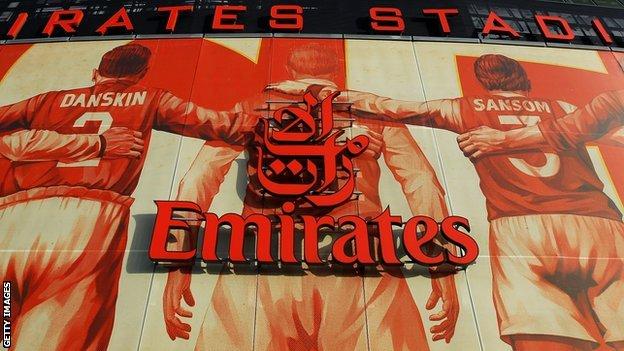 Arsenal's new £150m deal with Emirates will give the club extra money to spend on new players next summer, says chief executive Ivan Gazidis.
Dubai-based airline Emirates will pay Arsenal £30m per season for shirt and stadium sponsorship.
"This will be one of the biggest deals ever struck in the game of football," said Gazidis.
"We'll have additional money this financial year, which will be available to invest in the summer."
Arsenal originally signed a £90m contract with Emirates in 2004, covering eight years of shirt sponsorship (£48m) and 15 years of stadium naming rights (£42m) from 2006.
The Gunners currently receive £5.5m per year for shirt sponsorship, which is bettered by eight other Premier League sides, but once the new deal kicks in, they will only be eclipsed in England by Manchester United.
Arsene Wenger, who has been criticised for a perceived lack of spending, will have £40m available for new signings in January and the first £30m instalment from Emirates will arrive in time for the following transfer window.
"The deal is all about football, it's all about giving us the resources to be able to invest in what we put on to the field for our fans," said Gazidis, whose club have not won a trophy since 2005.
"This is an important and exciting day for our club. It is good news for Arsenal and our fans.
"The strategy, which has been driven and supported by [majority shareholder] Stan Kroenke and our board, is to grow our commercial revenues so that we can have more money to be able to invest in the playing side.
"This is as dramatic as the move into the new stadium [in 2006] was in propelling the club forward. Our revenues will grow to put us into the top five revenue clubs in the world."
Boutros Boutros, head of corporate communications at Emirates, added: "We would love Arsenal to win [trophies] and we hope this amount of money we are paying now will help them to invest more into the club."
Arsenal's last published accounts show a revenue of £235m, of which £52.5m was from commercial activities - a rise of just £4.4m (9%) since 2009.
The Gunners can also look forward to an improved kit supplier deal when their current contract with Nike expires in 2014.
Arsenal receive £8m per year from Nike, whereas Manchester United earn £25.4m from the same manufacturer and Liverpool £25m from Warrior Sports.
The Gunners will not, however, follow United in having a separate sponsor for their training kit.
At present, Arsenal's matchday income is one of the highest in Europe but it accounts for more than 40% of their total revenue - an unusually high percentage for a leading club.
The Emirates deal will lower that figure but, when asked if it would result in lower ticket prices, Gazidis replied: "I didn't say they would come down.
"I think we've been very responsible on ticket pricing over time. Since we moved to the new stadium we've had two increases in season ticket prices and both of those have been inflationary.
"We've tried very hard to balance the demand that we spend more money in the market with also trying to take a long-term responsible attitude towards our fanbase.
"Despite the fact that we've got long waiting lists in the stadium, we haven't pushed ticket prices forward, we've tried to hold them to a responsible level.
"The expansion of our revenue base will help us in managing that relationship."