Brazil sack Mano Menezes as football bosses flex their muscles
Last updated on .From the section Football154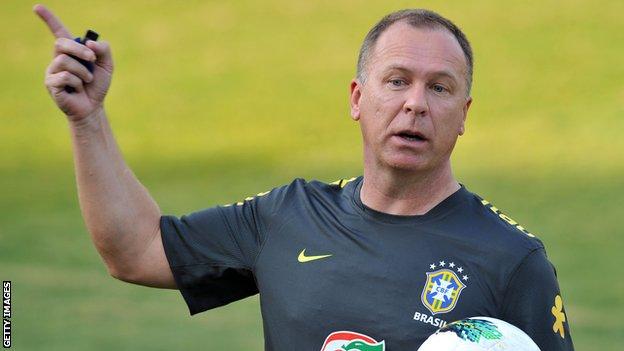 When Brazil play well the players get the praise. When they disappoint the coach gets the blame.
The Brazil job is like sitting in a coconut shy and, after nearly two and a half years in charge, Mano Menezes has now been knocked off his perch. He was sacked on Friday afternoon.
Few saw the blow coming. A cartoon published in Friday morning's edition of 'Lance!', Brazil's sports daily, shows a plane commanded by Menezes successfully coming through the turbulence of 2012. The pilot is celebrating the blue sky ahead, unaware that 2013 is about to bring plenty more bad weather.
The storm has come earlier.
No fool, Menezes was well aware that he was in for a rough ride when he took the job in July 2010. Brazil had taken an ageing side to the World Cup in South Africa. A major rebuilding job lay ahead. And it was not just a case of changing the names. There was also the need for a switch in style.
The counter-attacking play of predecessor Dunga, reflecting the direction taken by Brazilian football in recent times, was clearly a non-starter for the 2014 World Cup. For a start, on home ground Brazil would find few opponents willing to open up and let them unleash the counter. Also, in order to gain full advantage from playing at home Brazil would have to produce something closer to the traditional taste of their fans.
The transition period was unlikely to be smooth. And, if anything, the country's economic boom has also been a hindrance. More of the national team players were now based at home. This pleases the fans but created a problem.
One of the themes of the Menezes reign has been the difficulty of Brazil's home-based attacking players to adapt to the international game - which applies as much to the Neymar generation as it does to a veteran like Ronaldinho. They have struggled to reproduce club form against opponents who deny them the time and space so freely available in domestic Brazilian football.
Results inevitably suffered.
Had Menezes lost his job after the defeat by Mexico in the Olympic final then few eyebrows would have been raised. Since then, however, the team have responded in style. Both results and performances have been good, with the recall of Kaka something of a mini-triumph. After last month's ruthlessly impressive 4-0 win over Japan I quoted 1970 great Tostao. "For the first time," he wrote, "I'm hopeful that Brazil will have a great team in the World Cup." Mano's men, he concluded, had found "the way forward".
But they must complete the journey with someone else in charge. So why has the change been made now?
Andres Sanchez, director of national teams in the CBF (Brazil's FA), gave a press conference after the decision to sack Menezes had been announced. He made it clear that he had been against the sacking - which must surely raise questions about the tenability of his own position - and added that the change had not been forced by results, but rather by the desire of CBF president Jose Maria Marin to implement a new methodology. The short answer, then, is that Menezes has lost his job because that is what Marin wanted.
The long answer is that, for all its progress, Brazil has not changed as much as some might like to believe - which football makes depressingly clear.
Power in the Brazilian game lies not with the clubs, but with the football federations in the 27 states that make up this giant country. Almost half of these have had the same president for more than 15 years. The structure of semi-feudal fiefdoms is riddled with remnants of the old oligarchy.
Marin is a clear example. Now 80, in the 1960s he was a politician with the PRP party, which was set up by Plinio Salgado, Brazil's leading Mussolini imitator. In the 70s, along with Salgado, Marin switched to the Arena party, a right wing grouping established to give support to the military dictatorship that ran Brazil at the time. For a brief period in the early 80s he was governor of Sao Paulo.
As democracy returned so Marin's political fortunes declined. Football administration has proved his refuge, and he stepped into the top job at the CBF in March after predecessor Ricardo Teixeira resigned and scuttled off to the United States.
Like Teixeira, Marin belongs to the old Brazil, with its authoritarianism and exaggerated respect for hierarchies. He soon tried to put Menezes in his place. He told the press that he insisted on seeing (and presumably vetting) the list of players called up for international duty before it was announced by the coach - a classic case of having a dog and barking himself. Perhaps Marin felt that Menezes lacked pedigree.
The key point was that Menezes had not been chosen by Marin. He had been a Teixeira appointment. There were rumours bouncing around that Marin wanted to make a change - for what is the point of power if it is not exercised, if you cannot snap your fingers and make the world bend to your will?
There is an obvious question now: who will step in? Luiz Felipe Scolari is a strong contender, though Muricy Ramalho of Santos and Tite of Corinthians are also in the running.
But there is a bigger question. How long will Brazil's giant clubs stay inside a structure run by the likes of Marin? There could be a bright future for them if they have the courage to throw off the Brazil of the past.
Send your comments questions on South American football to vickerycolumn@hotmail.com, and I'll pick out a couple for next week.
From last week's postbag:
I am an Everton supporter and I would like to ask you a couple of questions about our ex striker, Denis Stracqualursi. I've noticed that he is scoring regularly for his new team San Lorenzo. Have you noticed an improvement in his game since his return from Everton? Also, could he get a call up for the Argentina senior team? For the record, I quite liked him as he played some good matches in the second half of last season and wouldn't have minded us signing him as a back-up striker. Tom Fox
I'm not sure that he's come on that much - he was a regular scorer in Argentina before the move to Everton. In terms of the national team, I think it's unlikely - though Argentina don't have the strength in depth with the target-man striker that they have with quick, stocky attackers, and they have been looking around for back-up to Gonzalo Higuain. Franco Di Santo didn't have a good debut against Saudi Arabia last month, though Hernan Barcos has looked proficient in his limited opportunities. And he's not exactly a target man, but Nacho Scocco put himself on the map with both goals against Brazil in midweek. But Argentina often play matches using only home-based players, so perhaps Straca's chance will come.
I wanted to ask your thoughts about the possibility of more integration between the Americas. Evidently, South America has a much richer history and much greater depth, but it seems to me that the Copa America and the Copa Libertadores would both benefit from including teams from the north - particularly from Mexico and the US. I know the Copa America has done this on an invitational basis, but formalising it could have a number of advantages - potentially combining North American organisation and structure with South American flair and tradition. Including America, Chivas, Galaxy, NY Red Bulls etc in the Libertadores would really offer some competition to the Champions League. Paul Godfrey
The South American federation are pushing for further integration. They want to get their hands on those dollars! But I think that any formal merger is a non-starter - South America would become a political irrelevance, since its 10 countries would be dwarfed by the Concacaf membership.
Three Mexican clubs already compete in the Libertadores - the problem here is that hiving off the most glamorous teams from Mexico and the US is desperately unfair on the Central American and Caribbean nations, since it would have a highly adverse effect on the Concacaf Champions League, a competition which needs all the support it can get.