Kilmarnock manager Kenny Shiels wants stronger officials
Last updated on .From the section Football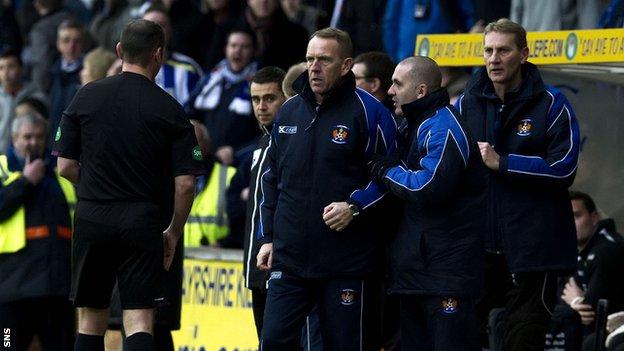 Kilmarnock manager Kenny Shiels has called for fourth officials to be "strong characters".
Speaking after his side's home defeat to St Johnstone, Shiels was aggrieved about Manuel Pascali's early sending off.
"The fourth official made the decision - a young lad," said Shiels.
"Seemingly, he conveyed that information to the referee that it was a red card - everybody was amazed at it."
Referee Stevie O'Reilly brandished a straight red to Killie captain Pascali following his challenge on Saints' Nigel Hasselbaink with only five minutes on the clock.
Shiels was then sent to the stand for protesting against the decision.
"Steve [Lomas] got in his [the fourth official's] ear and I'm not blaming him for that, but he was right in his ear when it happened and that can have an influence on a young boy," said Shiels.
"Maybe if I have a criticism of the Referee's Association, they should maybe appoint a strong character in that fourth official's place, because he can be influenced.
"It was obvious it wasn't a red and it's disappointing that we've had two reds in our last two home games.
"We appealed the other one and got it rescinded, but we didn't get the three points back that we lost against Inverness. We're not going to get these points back either."
However, Shiels was quick to point out he didn't feel referees had it in for his team.
"There is no way there is a vendetta against Kilmarnock by referees because we won the case with Cammy Bell - I want to make that abundantly clear," he added.