Luiz Felipe Scolari returns as Brazil coach for 2014 World Cup
Last updated on .From the section Football38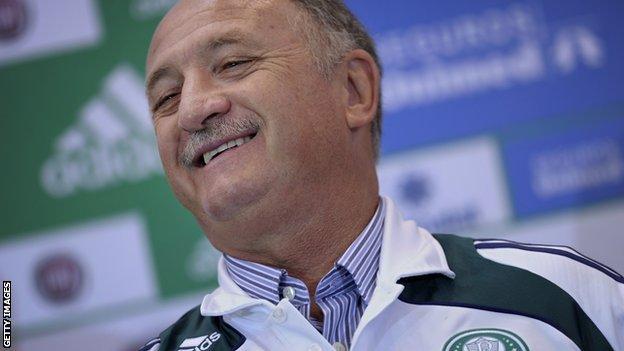 Luiz Felipe Scolari has been appointed as Brazil manager for a second time.
The former Chelsea and Portugal boss led Brazil to the 2002 World Cup title in Japan and South Korea.
Scolari, 64, replaces Mano Menezes, who was dismissed last week, and will now lead his country into the 2014 World Cup on home soil.
Carlos Alberto Parreira has been named as technical director. Scolari's first game in charge is scheduled to be a friendly away to England in February.
Brazil have failed to make it past the quarter-finals of the last two World Cups but Scolari says he is not daunted by the task of preparing his team for a home World Cup.
"I'm not feeling under pressure, but very happy," he said. "When the FA president called me last Tuesday and confirmed that I was the chosen one, I thanked him a thousand times."
The president of the Brazilian Football Confederation (CBF), Jose Maria Marin said: "Our sole commitment is to seek out and offer the best for our football and it is in this vein that we have chosen these two great champions [Scolari and Parreira], respected not just in our country but worldwide."
Scolari's first spell in charge started in 2001, when Brazil were struggling in the South American qualifiers. He successfully led the team to Japan and South Korea and eventually to victory in the tournament.
"I was under pressure the first time - when we were in danger of not going to the World Cup," he said.
"The players are those who always have pressure over them, I don't."
The Brazil Football Federation stated they were looking for "new methods and new planning" when they sacked Menezes last week, just two days after Brazil won the Superclasico de las Americas against Argentina.
Brazil's failure to win gold at London 2012 had put the coach under pressure along with defeat to Paraguay in the last eight of last year's Copa America.
Scolari was without a job since leaving struggling Palmeiras in September. The club were relegated to the second division of the Brazilian league after his departure.
He recently turned down offers to coach Brazilian sides Gremio and Cruzeiro and the Russian national team.
Scolari lasted just eight months as manager of Chelsea after joining in July 2008.
His appointment as Brazil manager comes two days before the draw for next year's Confederations Cup, also to be hosted in Brazil, in Sao Paulo.