Celtic: Neil Lennon offers to quit amid criticism over poor form
Last updated on .From the section Football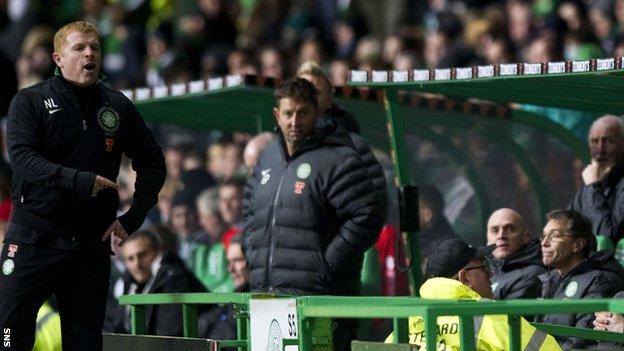 Celtic manager Neil Lennon says he will leave the club if supporters are unhappy with his record.
Lennon was barracked by some Celtic supporters near the dug-out during the match.
"I understand supporters' frustrations," he said. "If they're not happy with me and want me to go, I'll go, simple as that."
The Celtic manager described his side's recent home form as "unacceptable" but said he was vexed by some of the criticism.
"The lack of patience shown by some people baffles me at times," he added.
"These players are giving everything for the club. They don't always get it right. I know there's a lack of consistency in the league.
"I've just had it out with the players. Our play in the final third was poor.
"We can't keep having so much possession, missing easy chances and being wasteful with the ball.
"I'm not accepting it and I'll search to find the answers very, very quickly.
"I'm concerned about the lack of goals - particularly at home."
Lennon conceded frustration over poor domestic form in stark contrast to impressive Champions League displays.
"I'm fed up talking about Champions League games when we are playing domestic games," he said.
"I know it's all new to them, and I know there is a big game looming on the horizon.
"But I can't accept players thinking that way, because they won't play.
"They can't waste games, they can't think of other games when they're playing against decent SPL teams, which Inverness are."