Inter Milan 'will not play' Wesley Sneijder during contract talks
Last updated on .From the section Football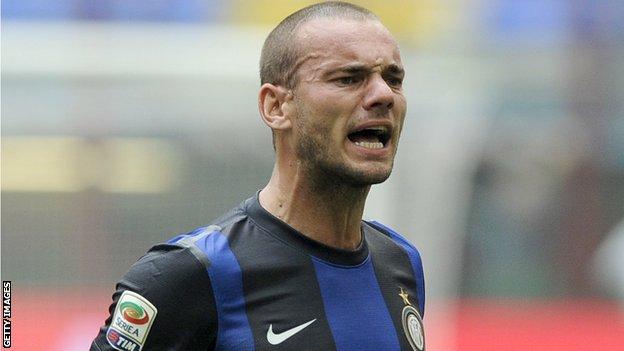 Inter Milan sporting manager Marco Branca has suggested midfielder Wesley Sneijder will not be picked until he agrees an "adjusted" contract.
The 28-year-old Dutchman, sidelined after suffering a minor injury in September, has been linked with a move in the January transfer window.
"We're patient and calm as we wait for the situation to evolve," said Branca.
Sneijder was linked with a switch to Manchester United in 2011, with the player claiming "unofficial talks".
"The situation with Wes, who is part of the history of this club and a player we all care about, is that we've been discussing a possible - and for us necessary - adjustment to his contract for a while," added Branca in an interview published on Inter's website.
"We want to give the player and his entourage all the time they need to consider the terms of our proposal carefully, so the coach and the club have decided not to use the player in this period until things are clearer."
The Netherlands international joined Inter in July 2009, having previously played for Ajax and Real Madrid.