Arsenal boss Arsene Wenger irked by substitution queries
Last updated on .From the section Football72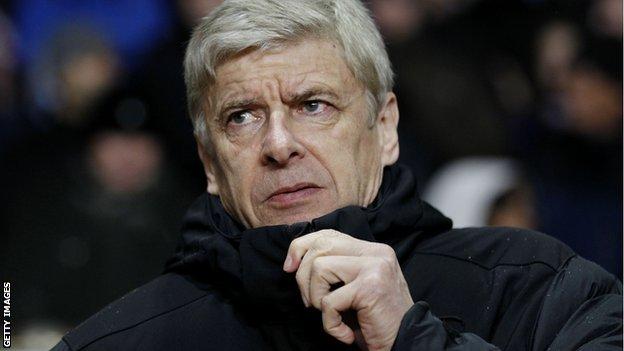 Arsenal boss Arsene Wenger said he did not have to justify his decisions after Gunners fans chanted "you don't know what you're doing" against Aston Villa.
The chant started when Wenger replaced Olivier Giroud with Francis Coquelin with two minutes left of the 0-0 draw.
"What is the thinking behind the substitution? I will not explain every decision I make," Wenger said.
"I have managed for 30 years at the top level and I have to convince you [journalists] I can manage the team?"
The result leaves Arsenal sixth in the Premier League, 10 points behind leaders Manchester United.
When asked about the chants following the game, Wenger said: "I don't want to comment on that. I do my job and do my best for the club. Why should I create a rift? I have given you the answer.
"I leave it to you to judge. I try to be as good as I can be. You are all great managers! I read the newspapers every day and I can tell you that you are always great managers!
"You judge the game for the papers and I sit here and explain to you our game. How many games have you managed? I promise you if you manage one I will sit in the stands and chant 'you know what you are doing!'
"You can discuss every substitution. You think what you want. I do my job and I let people judge it. I do that every day and I do my best every day. I know why I do it."
Wenger felt a hectic week in which Arsenal beat Tottenham in the Premier League and Montpellier in the Champions League had taken its toll on his side.
"Always, when you play away from home after the Champions League it can be difficult," he said.
"We lacked a bit of sharpness today in the final third. Physically we were jaded."
And Wenger defended his decision not to play Jack Wilshere after the midfielder's long injury lay-off.
"It's more dangerous to bring him on in weather like that [wet and windy] when he's tired. It made sense for him not to play."
Villa boss Paul Lambert, who watched the game from the stands because of a one-match touchline ban, defended his decision not to include fit-again striker Darren Bent in his 18-man squad.
He said: "It is my choice. I thought the squad I went with could win us the game. I've got 25 to 26 players to think about.
"The most important thing is this football club and I pick a team and squad I think will do well."