Chelsea's Fernando Torres toils against Man City - Savage
Last updated on .From the section Football

In his regular BBC Sport column on football tactics, Robbie Savage takes a closer look at Chelsea striker Fernando Torres' display in his side's goalless draw with Manchester City.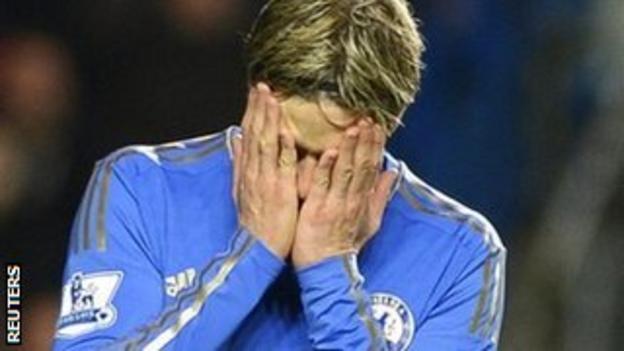 Since then, however, he has scored only one league goal - against Norwich on 6 October - and he was left out by former Chelsea boss Roberto Di Matteo in what turned out to be the Italian's last game in charge, Tuesday's Champions League drubbing by Juventus.
Sunday's game at Stamford Bridge was a big one for new Blues boss Rafael Benitez.
But it was also an important one for the 28-year-old Spanish striker, who still has much to do to live up to his £50m price tag.
STRUGGLING AS A SINGLE STRIKER
It is Torres's movement that has made him such a handful when he has played as a lone frontman in the past, but against City he was completely flat.
Chelsea were quite direct at times and some of the long balls up to him were not the best, and definitely not the sort he thrives on - those passes which let him pick up possession in the areas between the full-back and centre-back where he can be so effective.
Even so, he was beaten almost every time in the air by City's centre-backs, Vincent Kompany and Matija Nastasic, who out-muscled him on every occasion.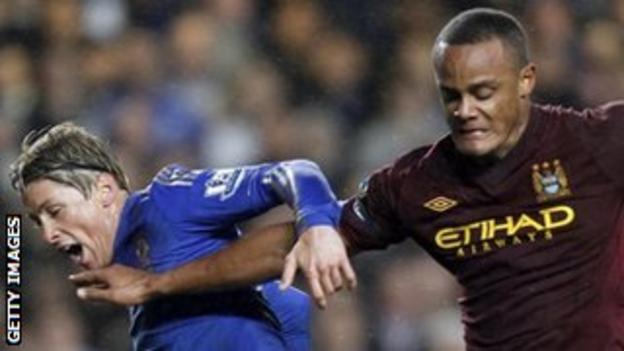 When you are a striker looking to challenge a centre-half, and you have your back to goal, your movement should be away from the ball first - and then towards it.
Or, if you want to spin off and go past him, you go towards the ball first before moving off and behind the defender. But Torres did neither. He was stationary and very pedestrian.
Torres did not win a header until the 39th minute, when he had to chase his own flick-on. Physically, he looked very weak and that meant Kompany and Nastasic had it easy.
That was bad enough. But far more worrying were the times when he was given the right service.
Torres was on the margins of the game in the first half, looked half-hearted in his runs and some of his early touches were very poor.
He did not get on the ball with any significance until the 13th minute when the ball was played into him on the edge of the box. His body shape was all wrong and he did not know whether to take it with his left foot or his right - and in the end he lost possession.
One of his strengths is running on to balls from deep, starting from a position high up the pitch, but when he had his first real sprint on 27 minutes, it came to nothing.
And, when he had a one-on-one situation with Vincent Kompany just before half-time, he took him on from a standing start and never looked like getting past him. At times it looked like the Spaniard was running in sand.
Even worse, there was no movement from him at all early in the second half when Ashley Cole sent in a cross and he was stationary on the penalty spot for three or four seconds - and that is nobody's fault but his own.
Yes, he had a great strike on goal on the hour mark with his left foot which went just over the bar.
But even then we are talking about a £50m striker whose best effort of the game was with his wrong foot and ended up missing the target.
His awareness was all over the place at times too. Just after that chance, he tried to let the ball bounce and turn and had no idea that Kompany was right next to him.
After that he didn't touch the ball for almost 20 minutes, then tried a trick which did not come off. His only positive contribution before the end was when he won a corner.
Torres did not do badly the last time I watched him closely, against Arsenal. But on this evidence he has gone backwards.
CHELSEA LEFT BLUNT UP FRONT
I know from experience that when you are playing with a lone striker who is not performing it makes things extremely difficult for the rest of the team.
You see the ball bouncing back off him, and that he is getting bullied, and you lose faith in him.
And if, even when he gets the service that suits him, he is not running behind the defence and stretching sides then it can actually stop you from passing up there.
That happened to Chelsea. At times on Sunday it was like they were a man down.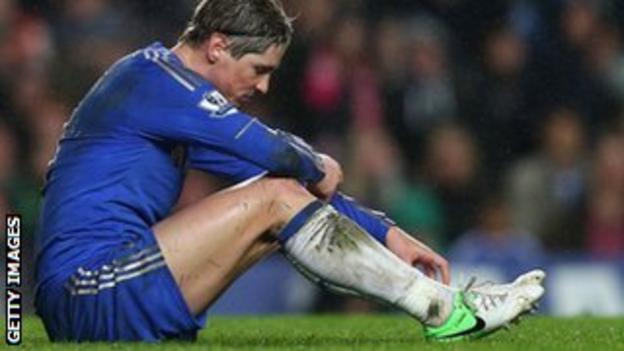 They cannot carry Torres because he is their outlet, and not just when their creative players Eden Hazard, Juan Mata and Oscar are on the ball.
In the hustle and bustle of the Premier League, the way the ball is played forward from back-to-front is often from full-back to central midfielder to centre-forward.
It is not always done as quickly as that, but when you are under pressure sometimes you have no choice but to play it forward when you pick the ball up from your full-back.
As that midfielder, it is frustrating when you do that and your striker is always on his heels or off balance - as Torres appears to be - whenever you try to nip quick balls round the corner to him.
If it is not sticking up there, then you stop wanting to clip it into his feet or trying to find him at all.
It affected Chelsea against City because their three in midfield were looking for him but he was hiding behind Kompany and Nastasic.
They could not build anything off him, and they lost faith in him before the end. He was very poor and I was surprised he was not substituted.
NEW BOSS NEEDS OLD TORRES
It is too early to say what effect Benitez has had on Chelsea tactically. I will come back to that in weeks to come.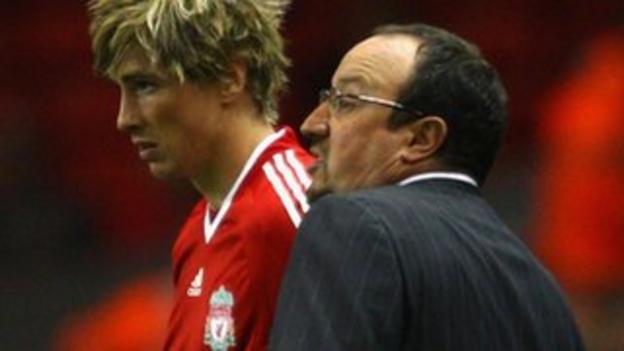 But on the evidence of his first game, he has at least two big jobs ahead of him. The first is to win over the fans who gave him such a hostile reception, and the second is to either turn Torres' form around - or replace him.
Benitez got the best out of the Spanish international when he signed him for Liverpool in 2007, but it is going to take more than just a manager who knows him to raise the striker from this slump.
Like a lot of people, I want to give Torres the benefit of the doubt, to believe this is just a blip and that, yes, he is still the wonderful player he was.
But it looks like he has lost his pace, and his touch just isn't there. Whatever he had that made him a special talent, has gone.
Didier Drogba was watching from the stands on Sunday and, if he had been in the Chelsea team, the difference would have been immense.