West Ham chanting claims: fan banned after arrest at Spurs
Last updated on .From the section Football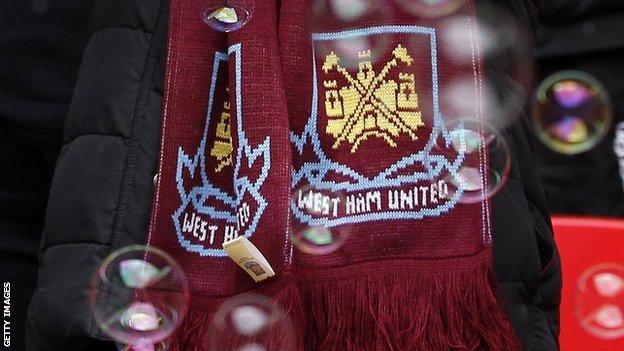 Two West Ham fans were arrested and accepted a police caution for anti-Semitic gestures during Tottenham's 3-1 win at White Hart Lane on Sunday.
One of the fans, a season ticket holder, has been given a lifetime banning order by the east London club.
The two supporters were cautioned for racially-aggravated public order offences, police said. It is understood they made Nazi-style salutes.
Five arrests, not directly linked to taunts at Spurs fans, were also made.
Some of West Ham's fans are alleged to have mocked Tottenham supporters, who traditionally have strong ties with London's Jewish community.
Police have also received a complaint about chanting from a section of West Ham supporters by the Society of Black Lawyers. They will meet the complainant before deciding whether to launch a formal criminal investigation.
The FA said it had begun an investigation into "reports of abusive chanting".
West Ham said the club would take the "strongest possible action against any of their supporters, including enforcing life bans from the club, that are found guilty of behaviour which is categorically not condoned by West Ham".
"Any other individuals identified can expect a similar swift and robust response."
A Tottenham spokesman said: "We are currently compiling a full report for the Football Association and shall be submitting this with all our evidence including relevant CCTV footage."
After Tottenham ended a three-game Premier League losing streak with Sunday's win, both managers were cautious about reacting to reports of the chanting.
West Ham manager Sam Allardyce said: "I don't want to be a political animal - I'm here to talk about football and not what fans are saying and singing."
Tottenham manager Andre Villas-Boas did not want the issue to detract from his side's best home performance of the season.
He said: "You know the animosity there is between Tottenham and West Ham and as long as it doesn't reach stupidity it is a great, great rivalry of two London clubs."
Tottenham Supporters' Trust chairman Bernie Kingsley said: "There are an awful lot of decent people who go to watch West Ham and it is unfair to punish the majority of supporters [by playing games behind closed doors] for an act undertaken by a relatively small number.
"The much easier solution would be to reduce the allocations or not allow supporters from those clubs to go to away games."
West Ham supporter Graeme Howlett, who edits the Knees Up Mother Brown website, said: "There is a line some people are willing to cross at football grounds. It happens everywhere. Unfortunately, it happened at White Hart Lane yesterday and some West Ham supporters were involved. But I must stress it was a tiny minority.
"There was a report of a song about Adolf Hitler and I have spoken to at least two dozen fans who were there and of the 2,800 allocation, rough estimates put the number singing that at 20."
The Board of Deputies of British Jews issued a statement and plan to write to the FA urging them to punish anyone found guilty of anti-Semitic chants at the game, saying there was "either a lack of understanding or a lack of compassion within some sections of the British football world about these issues".
Spurs fans were also allegedly subjected to anti-Semitic abuse during their 0-0 draw with Lazio in the Europa League on Thursday.
Two Italians after Tottenham supporter Ashley Mills was stabbed before the game in Rome.