Carl Fletcher bemoans bad luck as Plymouth Argyle lose again
Last updated on .From the section Football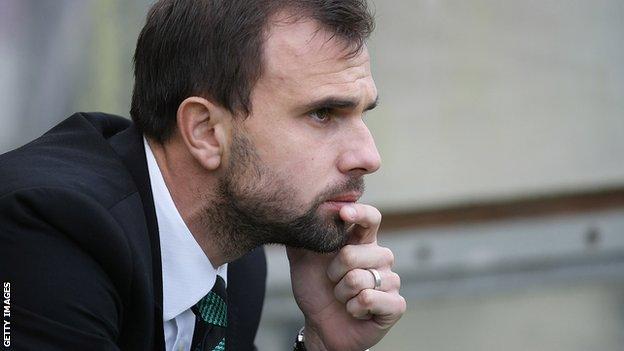 Plymouth boss Carl Fletcher again bemoaned his side's bad luck following their seventh loss in eight games.
"Again we've dominated the game in every sense, chances, attempts at goal, corners and what have you.
"It just didn't bounce for us, and it seems to be we're doing all the hard work and it isn't rubbing off for us," Fletcher told BBC Radio Devon.
Prior to Saturday's game at Home Park, Fletcher brought Afghanistan veteran Ben McBean into the dressing room to try and inspire the players.
The Plymouth-based former Marine lost a leg and an arm while serving his country.
"He spoke to the lads to motivate them and say that things could be a lot worse.
"He had pictures of his mishap in Afghanistan after he lost his leg and it brings home what you do, and whatever happens there's always someone worse off than you," explained Fletcher.
Despite the defeat, the Plymouth boss was pleased by his side's play and willingness to work for each other.
"That's a massive bonus for us and the down side is not getting the results," he added.
"We don't just smash the ball around and hope something goes our way, we try and get it into certain areas and make the right decisions at the right time.
"The lads have been working on getting on the front foot and trying to get teams penned in when they can, but we didn't get that bit of luck for it to fall to us and get the finish."