Gary Speed: Wales still adjusting a year on from manager's death

By Phil McNulty
Chief football writer
Last updated on .From the section Football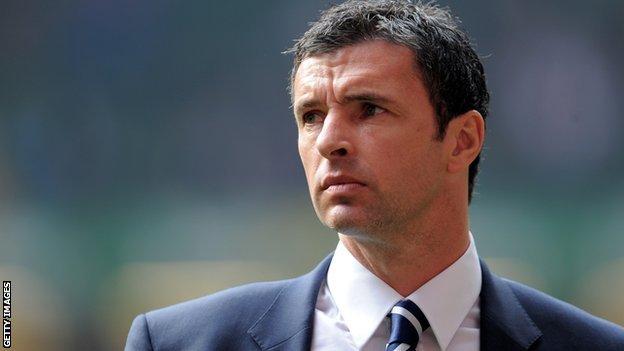 Wales football was on a rare high one year ago as a bright, progressive young manager looked to be taking an emerging team into the future.
Gary Speed had lifted Wales from 116th to 48th in the Fifa rankings and the country was optimistic that its days on the margins of the game were coming to an end. Then came the shattering news.
Speed, 42 and with seemingly everything to live for both within football and outside, was found hanged.
The football world mourned and paid tribute to a personality who had always represented its finest values, but the game took second place when set against the impact on Speed's close-knit family and loyal friends.
In a purely football context, Wales were stopped in their tracks and, a year on, are still struggling to regain that momentum and impetus under Speed's successor and former international colleague Chris Coleman.
The recent World Cup qualifying win against Scotland is Coleman's only victory to date.
That result, although it was followed by defeat in Croatia, at least relieved some of the pressure that had been building since Coleman took on a task that was not only difficult from a footballing viewpoint but emotionally as well.
Former Wales captain Barry Horne was a close friend of Speed's and a Wales colleague. He also represented his country alongside Coleman.
Horne told BBC Sport: "Gary's death was something that obviously had an impact in the context of the past, present and future of Welsh football.
"When Gary was manager the present was looking good, things were going well and the future was looking very, very bright. The past was all about the person he was, the man he was and the footballer he was.
"The way people felt about him was demonstrated abundantly in the reaction to his death and the tributes from around the world.
"This was at the root of the success Wales were starting to have under him. This relationship with the players was fundamental because you can't start putting footballing philosophies and tactics into place without that bedrock, that relationship with the players. Gary had that."
Horne added: "Gary had all that because of his openness, fairness, honesty - and of course he had been a great player. Other players might have found that difficult because he had played with some key members of his squad and a relationship was already there.
"Nobody in football had a bad word for him. It was a loss that had a huge impact on the football world but on football in Wales, and the Wales national side in particular."
Coleman inherited a unique situation. The departure of any manager can have its effects but Speed's death devastated a squad that did not simply look up to the manager but also related to him as someone who had enjoyed an outstanding career in the modern era.
World Cup qualification is now a remote prospect and Coleman has already started to tackle two items high on Welsh football's agenda - the captaincy, and life beyond the influence of the 33-year-old Craig Bellamy.
Coleman surprisingly replaced Arsenal youngster Aaron Ramsey as skipper with Swansea City defender Ashley Williams for the World Cup qualifiers against Scotland and Croatia and Bellamy's future is still a matter for debate.
Horne said: "The jury is still very much out on how Chris's tenure will pan out. The run of friendly fixtures leading up to the World Cup qualifiers were probably seen as neither here nor there because I don't think results in Gary's first few fixtures were that great either.
"I recall speaking to Gary and he had a picture of how things were developing and what he needed to put in place. He was in the process of doing that and of course they finished the Euro 2012 campaign with good results and superb performances.
"Since then results have been less than spectacular - although I wouldn't want to be too critical of Chris or the team."
For all the plaudits received by Wales' young generation, Horne points to Bellamy as a key element in the success of their side.
He said: "Craig Bellamy and Gareth Bale are, will be and should be two huge players for Wales. When you have them on either side of the pitch, you always have a chance.
"For all the great reviews Bale has had - and deservedly because he has been magnificent - when Bellamy plays he matches him in terms of contribution and team ethic.
"You never know with Craig what he is really thinking but it seems to me that his commitment to Wales maybe isn't what it was and that's a huge blow. Whether this is because of the relationship he had with Gary, or lack of a relationship with Chris, or whether he wants to concentrate on his club career I honestly don't know.
"With Ramsey, I thought he was growing into the [captaincy] role quite well in terms of dealing with the media and had a good relationship with the key players around the camp.
"Chris gave his reasons for changing the captaincy and said he wanted to make his own mark on the squad, and fair play to him for his honesty," said Horne.
"Aaron Ramsey would have been very, very disappointed but I think he will go on to do very well and captain Wales again one day.
"My big fear about it is that if Bale and Bellamy are key, then so too is Ramsey. My worry is that if you are captain you are expected to turn up and there is great expectation on you to play but now Aaron is not captain. Arsene Wenger is very protective of his players and they love him.
"I just worry Wales may not have the same degree of access to him - which may be unfounded, I don't know."
As Wales and the rest of football marks the anniversary of the death of one of its most respected figures, it is clear the recovery process is still continuing.