Cheltenham's Scott Brown credits Sam Deering for penalty save
Last updated on .From the section Football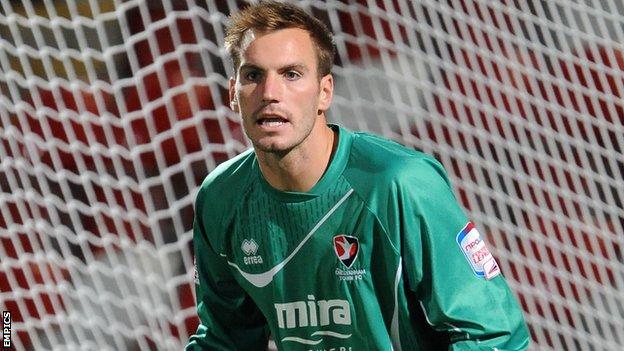 Cheltenham keeper Scott Brown admitted his penalty save in Saturday's 1-0 win over Barnet was thanks to advice from ex-Bees midfielder Sam Deering.
"He [Byrne] took two penalties last week and went to the keeper's left.
"But thanks to a bit of intervention from Sam I went the other way," Brown told BBC Gloucestershire.
"Sam said 'he always goes that side' but when I said he went left last week, Sam said 'did he?'.
"I'd have gone the other way without him so he deserves all the credit, not myself. I got the man of the match champagne but I gave it to Sammy.
"It was a nice height but you have to go the right way. It was a good save and luckily we went on to win the game."
Although third-place Cheltenham have kept the most clean sheets in League Two this season - Saturday's was their ninth of the campaign - the victory followed two defeats in which they had conceded eight goals.
Brown said they had learned a harsh lesson from the mistakes they made in the games against Chesterfield and Rotherham.
"At times we look like we can go on a run of clean sheets but that last two games have showed we've got to be on our guard for 95 minutes, as teams will punish you," he added.
"But we've got back to what we know we are good at and we are still in third."