Mark Clattenburg: Norwich boss Chris Hughton welcomes him back
Last updated on .From the section Football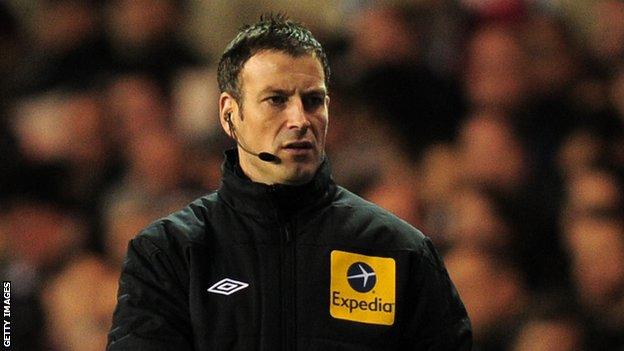 Norwich boss Chris Hughton has welcomed Mark Clattenburg's upcoming return to refereeing following the dismissal of racial abuse allegations.
The 37-year-old had not officiated since 28 October when he was accused of using inappropriate words by Chelsea.
"I for one am pleased he is back after all that happened. He will be very well received," he told BBC Radio Norfolk.
"I think everyone will be delighted to see him back but there's no pressure. Referees are the same as players and managers, we're all under pressure in these games and he's an experienced referee.
"The only pressure he'll be under will be from making the right decisions but they go through that every game. It's not a game on television. So the spotlight will just be from within."
The situation emerged in the aftermath of the London club's 3-2 defeat to Manchester United at Stamford Bridge when it was alleged that Clattenburg had directed racial language at Nigeria midfielder John Mikel Obi.
After missing four weeks of action while a Football Association investigation was ongoing, he was found to have "no case to answer" last Thursday following a review and was the fourth official for Tottenham's 3-1 win against West Ham on Sunday.
Speaking after the match at White Hart Lane, both managers praised Clattenburg's re-appearance.
"It was good to see him," Spurs boss Andre Villas-Boas said. "He is obviously a great referee who has been through a difficult time in his career and he has cleared his name.
"I think for him it was extremely important, it was good to see him."
West Ham's Sam Allardyce echoed those comments, saying: "I just said it was good to see him back and to get on with his refereeing. It's nice to see him back.
"I'm sure he is itching and ready to get back into the middle. I don't think it is finally sorted yet but from his point of view he is back where he should be because there is a shortage of experienced, quality referees in our country at least and we couldn't afford to lose him."