Cardiff boss Malky Mackay makes promise over Peter Whittingham
Last updated on .From the section Football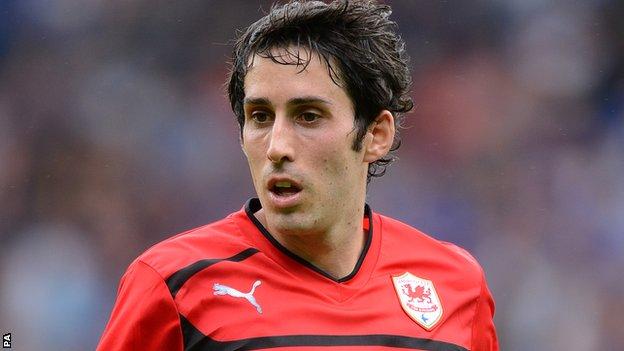 Cardiff City manager Malky Mackay has said he will not allow midfielder Peter Whittingham to leave the club during the January transfer window.
The 28-year-old has played a key role in Cardiff's push for promotion to the Premier League.
Whittingham signed a new three-year contract with Cardiff in August despite interest from Premier League clubs.
"He's certainly not going to be going anywhere in January, that's a promise," Mackay said.
The former England Under-21 international has scored seven goals so far this season for Cardiff, the current Championship leaders.
Earlier in the season Mackay described Whittingham as the "best player outside the Premier League."
Although Mackay says the interest in Whittingham is flattering the Scotsman is unwilling to sell the former Aston Villa midfielder.
"It's not a bad thing to have people wanting your players," Mackay told BBC Radio Wales Sport.
"There have been teams who have wanted him but they've not valued him at the value I feel merit the club looking at that.
"It was certainly something I was very strong in my views with our owners in terms of us building a team to challenge and our best players have to be here.
"And he [Whittingham] falls into that category. At the same time he's got to feel it's the right environment for him.
"He's got to feel he's wanted here and is part of something that's growing here.
"He's a fantastic lad and he's someone that I think will play at the highest level no matter what but I want it to be with me."
Whittingham provided the assists for Cardiff's two goals in their 2-1 win at Barnsley in the Championship last Saturday.
And manager Mackay says Whittingham's hard work on the training ground is paying dividends in Cardiff's push for promotion.
"It's something we felt, with a little bit of practice on the training ground, that pays off and it certainly has over the last few months," added Mackay.
"He's someone myself and my staff are constantly pushing to be better and better."
Whittingham spent a loan spell with Derby County in 2005.
And the midfielder is due to make his 250th start for Cardiff against The Rams in the Championship on Tuesday.
Derby County have lost just two of their last 14 home matches, a fact that hasn't escaped the Cardiff City manager.
"They've got players that can hurt you," Mackay said of Nigel Clough's side.
"We've got to make sure we stand up to that and try and come away with a victory."