Radamel Falcao: Atletico Madrid striker cut out for England
By Andy West
Spanish football journalist in Barcelona
Last updated on .From the section Football175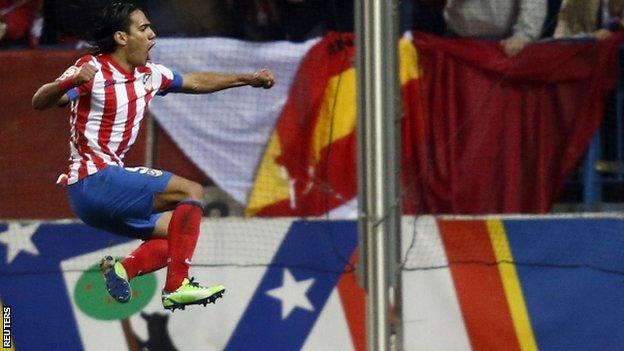 Chelsea and Manchester City fans have good reason to watch Saturday's Madrid derby at the Bernabeu more closely than usual.
Persistent rumours have linked the Premier League's biggest spenders with a January move for Atletico striker Radamel Falcao, whose 11 goals in La Liga have been the key factor behind his team's improbable title challenge.
Alongside Real's Cristiano Ronaldo and Barcelona's Lionel Messi, the charismatic Colombia international is this season's biggest star in Spain, inspiring his team to a fabulous set of results which sees them enter the derby weekend in second place, three points behind leaders Barcelona and eight ahead of their cross-town rivals Real.
But the free-scoring exploits of 26-year-old Falcao have been no great surprise, because the striker is much more than a flash in the pan.
He first came to Europe in 2009, joining Porto from Argentine giants River Plate, where he had already established himself in the Colombian national team.
The goals continued to flow at a rate of nearly one per game in Portugal, leading to a 40m euro (£32m) move to Atletico in the summer of 2011.
Although Falcao's first campaign in Madrid was an undoubted success - he scored 36 goals, including two in the Europa League final victory over Athletic Bilbao - the game that made the wider world sit up and take notice came at the beginning of this season, when his brilliant hat-trick destroyed Chelsea in the Uefa Super Cup in Monaco.
Falcao then further underlined his credentials with a remarkable run which saw him score in 11 consecutive games for club and country between August and late October - the only question now is not if he will leave Atletico, but when.
The fee that would-be suitors will have to splash out to meet the release clause in his Atletico contract is a whopping €60m (about £48m). But John Carlin, a British-born journalist for Spain's biggest-selling newspaper El Pais, believes the striker represents value for money even at that lofty sum.
"He's worth it," states Carlin. "He's one of those strikers who can be almost non-existent outside the penalty area, but when he enters the box it's as though he's been electrified by the ground under his feet.
"He's extremely good in the air, lethal with both feet and capable of scoring a real variety of goals - whether it's stabbing the ball in from two yards or curling shots from the edge of the box. He's got the full repertoire."
Carlin also believes that Falcao would have no problem in adapting to the faster, more physical style of play that predominates in the Premier League.
"Falcao is perfectly suited to the traditional English game of getting balls into the box as often as possible. He would be a huge plus for any team," he added.
"He's brave, powerful and an intimidating presence for any defender to deal with. It's no accident that his nickname is El Tigre [the Tiger] - that's entirely appropriate."
Falcao's father caused a storm earlier this season when he told a Colombian radio station: "My son's dream is to play for Real Madrid."
But that prospect seems unlikely considering a murky 'gentleman's agreement' that restricts Real from poaching players from their local rivals.
Although mega-rich French club Paris St Germain and new Russian powerhouse Anzhi Makhachkala have expressed an interest, the Premier League is believed to be Falcao's most likely destination.
Chelsea are considered favourites and could well benefit from the fact that the striker is represented by Portuguese agent Jorge Mendes, who has close links with the Stamford Bridge club and facilitated the moves of Jose Mourinho, Luiz Felipe Scolari, Ricardo Carvalho and Paolo Ferreira to London in the past.
The possibility of Fernando Torres returning to his former club Atletico as part of the potential deal is another factor that could work in Chelsea's favour.
And former Netherlands international Michael Reiziger, who experienced the move from Spain to England when he joined Middlesbrough from Barcelona in 2004, believes that off-the-pitch considerations will also be important.
"When a top-class player like Falcao moves to a new country, his first priority will be sporting factors - deciding which club gives him the best chance of success," Reiziger said.
"But if Falcao has a choice between two big teams like Chelsea and Manchester City, where the sporting potential is perhaps equal, then personal matters become significant.
"For many overseas players, the prospect of living in London can be appealing. Falcao is used to major cities like Madrid and Buenos Aires, so the opportunity to move to London might be a big part of his decision."
Whichever club does end up signing Falcao will find themselves with a player who is regarded as a national icon in his native country.
Carlin explains: "I spent some time in Colombia recently and it was very clear that Falcao is an unalloyed national hero.
"In an amazingly divided country which is beset by civil war, he's the one person who binds together everybody, irrespective of their political views."
And the striker commands respect not just for his goalscoring feats. Carlin continues: "Talking to people in Colombia, the unanimous opinion is that Falcao is a real good guy - an absolute tiger in the penalty area but off the field a very decent person."
Good player, good guy... great signing? An eye-catching performance this weekend could see El Tigre take another big stride towards the Premier League.