FIFPro World XI: Steven Gerrard and Frank Lampard make shortlist
Last updated on .From the section Football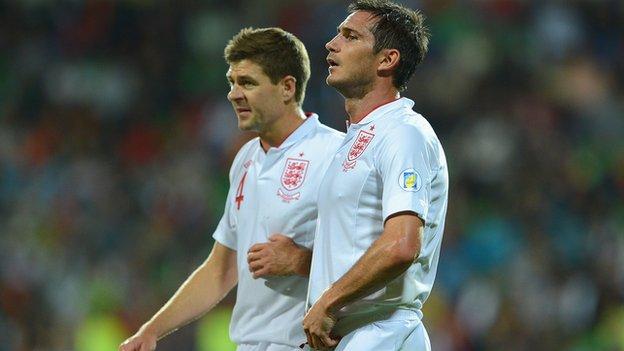 England midfielders Steven Gerrard and Frank Lampard have been named among 15 midfielders on the shortlist for the 2012 FIFPro World XI.
Eden Hazard, David Silva and Yaya Toure are the other Premier League players to be nominated by fellow professionals.
Three midfielders will be selected for the team, which will be announced during the Fifa Ballon d'Or Gala on 7 January 2013.
Spanish giants Barcelona have four players on the shortlist.
The four - Sergio Busquets, Cesc Fabregas, Andres Iniesta and Xavi Hernandez - helped Spain to the Euro 2012 title this year.
Nominees: Xabi Alonso (Spain and Real Madrid), Sergio Busquets (Spain and FC Barcelona), Cesc Fabregas (Spain and FC Barcelona), Steven Gerrard (England and Liverpool), Eden Hazard (Belgium and Chelsea), Andres Iniesta (Spain and FC Barcelona), Frank Lampard (England and Chelsea), Luka Modric (Croatia and Real Madrid), Mesut Ozil (Germany and Real Madrid), Andrea Pirlo (Italy and Juventus), Franck Ribery (France and Bayern Munich), David Silva (Spain and Manchester City), Bastian Schweinsteiger (Germany and Bayern Munich), Yaya Toure (Ivory Coast and Manchester City), Xavi Hernandez (Spain and FC Barcelona)