AFC Bournemouth: Brett Pitman impressed by Cherries squad
Last updated on .From the section Football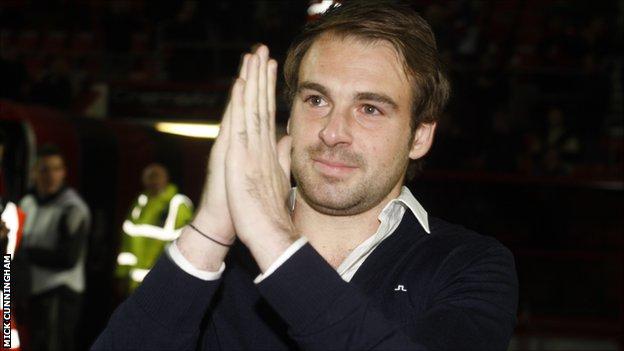 Bournemouth striker Brett Pitman has admitted to being pleasantly surprised at the quality of the Cherries squad.
And after scoring a last-minute equaliser against Bury at the weekend Pitman says he has been impressed with what he has seen from his team-mates.
"I knew they were good players but they've surprised me how good they are," Pitman told BBC Radio Solent.
Jersey-born Pitman added: "I've only trained with them Thursday and a little bit on Friday and I've seen them play Tuesday and Saturday.
"The quality is very, very high and I did not expect it to be that high. They have surprised me."
Pitman's goal was his 63rd for the Cherries and he admits it was extra special for one particular reason.
"It's the first goal I've scored this season and first since my son's been born so it's very special," he said.
Meanwhile, Bournemouth have announced the defender Stephen Purches's return from a broken leg will be delayed.
Purches suffered the break in February and will have an operation on Tuesday to remove the metal plate from his leg.
"Following a consultation with his surgeon last month, it was decided that it would be best to remove the plate, despite not planning to initially," Cherries physio Steve Hard told the club's official website.
"Upon his return to jogging, Stephen was experiencing discomfort from the screws being low down, so therefore when he eventually returns to playing, the pain would have been excruciating particularly when going in for tackles.
"This therefore puts his recovery back somewhat, meaning it will be six to eight weeks before he will return to the level he is currently at."