England failures 'left a void' in Gary Neville's career
By Phil Cartwright
BBC North West Sport
Last updated on .From the section Football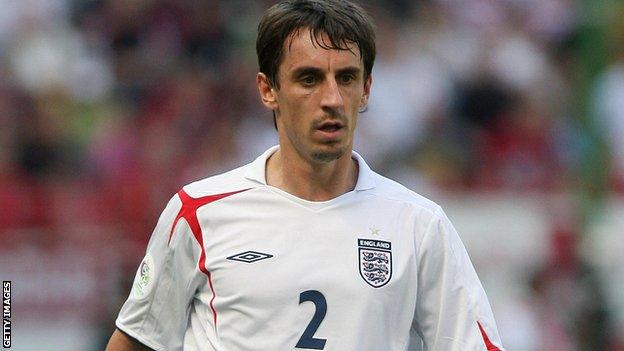 Gary Neville caused a stir last year when, in his autobiography, he wrote: "There have been times when I've reflected on my international career and just thought: 'Well that was a massive waste of time'."
But the former Manchester United full-back, who won the Champions League and eight Premier League titles, says is often taken out of context.
The 37-year-old, who is now an England coach, told BBC Radio Manchester's In The Spotlight programme: "When people remove the words before 'it's a waste of time', you are open to people creating a perception that I didn't enjoy playing for England.
"I loved every single minute of playing for England.
"But the fact of the matter is that when you play 85 times and in five major tournaments, and you don't get past the semi-final or win a tournament - maybe 'waste of time' is too strong - but if I played for Manchester United for 15 or 20 years and did not win a trophy, I'd say that was a waste of time.
"The expectation that Sir Alex Ferguson puts in at Old Trafford is that it's not acceptable not to win. To go through that career with United and win trophies consistently, and then have this big void which is England - that to me is like I've wasted an opportunity. That's probably a better phrase to use."
The closest Neville came to success in an England shirt was at Euro 96 - his first major tournament at international level - when Terry Venables' side fell at the semi-final stage to Germany after a heart-breaking penalty shoot-out at Wembley.
England also reached the last eight of Euro 2004 and the 2006 World Cup with Bury-born Neville in the team.
"You must think that's a huge missed opportunity with some of the quality we had at that time, particularly in 1996 and 2004, where I think we were good enough," he said.
"You can't complain about the others because we weren't good enough. But in 1996 and 2004, we were good enough, and that's the waste."
Neville, who retired in February 2011, is now hoping to help the national team to success as combining the role with his other guise as a television pundit.
While glory at international level has yet to materialise, Neville enjoyed one of the most successful careers of any player in English football history.
He was part of the fabled "Class of '92", and along with Ryan Giggs, Paul Scholes, David Beckham, Nicky Butt and younger brother Phil, he would form the basis of the side that would dominate the Premier League for more than a decade.
But for all of the trophies and the 602 United appearances, it is his early days in the youth team at Old Trafford that Neville looks back at with the most pride.
"They were my best times at United," he said. "From the ages of 16 to 18, there were 15 or 20 of us that were inseparable. I'm proud of the times I spent with all those lads.
"The greatest achievement of that youth team is not just the six [that became first-team regulars at Manchester United].
"Chris Casper works for the Premier League implementing academy programmes, Ben Thornley is working in the media, Robbie Savage is on Strictly Come Dancing one minute and Match of the Day the next. Mark Rawlinson is now a policeman.
"That group of people - no matter whether they made it at United or not - have extracted every single last ounce of their ability."
You can hear Ian Cheeseman's extended interview with former Manchester United and England defender Gary Neville on BBC Radio Manchester's "In The Spotlight" programme from 18:00 GMT on Thursday, 29 November.
It is also available on iPlayer for the subsequent seven days.