Rafael Benitez says Fernando Torres not at Liverpool peak
Last updated on .From the section Football434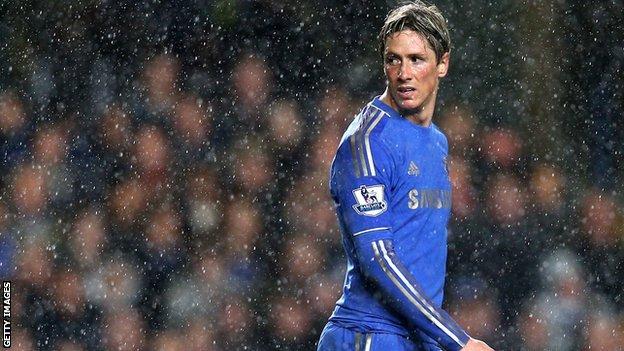 Rafael Benitez admits Chelsea's Fernando Torres has not recaptured the form he showed when at Liverpool.
The Blues interim manager says Torres' performances can improve but is unsure how close to that level he can get.
Torres, 28, scored 81 goals in 142 appearances for Liverpool after being signed by Benitez in 2007, but has only got 19 since his 2011 move to Chelsea.
"It [Torres' form] is not the same now as when he was at his maximum but I think he can come back," Benitez said.
"How close? I don't know. It also depends on the rest of the team. I think he can improve but the team has to help him."
Chelsea are without a win in five league games ahead of Wednesday's meeting with local rivals Fulham.
Former Liverpool boss Benitez, who takes charge of his second Chelsea game since replacing Roberto Di Matteo last week, believes some added physicality will help Torres.
"The first thing is to give him some confidence; give him instructions of what he can do in a different way to improve him and the rest of the team a little bit physically," said Benitez.
Chelsea have managed just one clean sheet in their last 11 outings which came in Sunday's 0-0 draw with Manchester City and Benitez believes that tightening up the defence will ease pressure on Torres having to score.
The former Liverpool manager also hinted he may change the shape of the side to help them improve defensively as Chelsea have used just 19 players in the Premier League - fewer than any other team.
"When you have a striker you always think he has to score," said Benitez.
"If you can be stronger in defence, you can regain the ball easier, you have more chances because you have more possession so that is the idea.
"We try to improve them a little bit physically and the shape of the team if we can, then keep the good things that they had."
Benitez will be hoping for his first win on Wednesday as he has a battle on his hands to win over disgruntled supporters who are annoyed the Spaniard was brought in to replace Di Matteo.
The Blues' faithful made their opinions clear by booing Benitez before their draw with City, but the former Liverpool manager remains unperturbed.
"If you have a player that has not got the support of the fans what I will tell him is: 'Stay focused. Try to do your job and concentrate on your football'," he added.
"For me it is the same. I understand how the fans feel at the moment."