Hearts: Director Sergejus Fedotovas warning over debt
Last updated on .From the section Football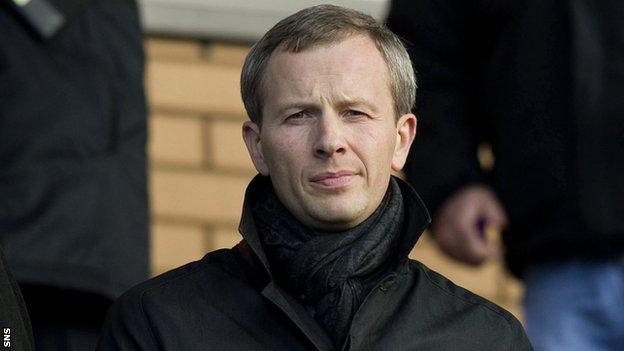 Hearts director Sergejus Fedotovas has warned against thinking the club is free of its financial problems.
"The effort is outstanding," he told the club's official website.
"Many important challenges lie ahead," he added. "We are still short of covering our wage and tax bill undertakings for the season."
The Edinburgh club issued a plea for "emergency backing" from supporters in early November to avoid the prospect of administration.
The club estimated it needed £2m to survive the season, with a tax bill of £450,000 hanging over the club.
Hearts owner Vladimir Romanov has rejected bids for the club from fan group Supporters Direct, the Foundation of Hearts consortium and former Livingston owner Angelo Massone - decisions defended by Fedotovas.
"The current owners did not highlight preferences of any deal, so a reasonable proposal will have a way forward given it reflects the value of the club and is acceptable in principle," he said.
"Apart from the terms being acceptable to the current owners, the buyer will need to demonstrate they are a fit person to run the club and have a realistic plan for running the club successfully.
"As a possible option, the club may be sold and the stadium may remain in ownership of UBIG and leased to the club. In this way the value of the deal for the football club only will be reduced and debt repayment will be linked to the stadium."
Fedotovas also played down hopes that Romanov would write off the club's debt, although he did not rule out such a move entirely.
"It depends on the deal," he said.
"If the buyer is willing to get the club for nothing, like the Foundation of Hearts has tried, then there should be no expectation of the debt being written off.
"UBIG has acquired the club with a similar amount of debt and a similar financial situation by paying a consideration for the shares.
"In my view, the price is the value of the club which is acceptable to the present owners."
However, the Lithuanian was optimistic there would be more bids for the club in the new year.
"Things may change next year if bidders will reconsider their position or new bidders will emerge, and I know that some people are actively considering things in the background," he said.