Elgin City fined £25,000 over Rangers match call-off
Last updated on .From the section Football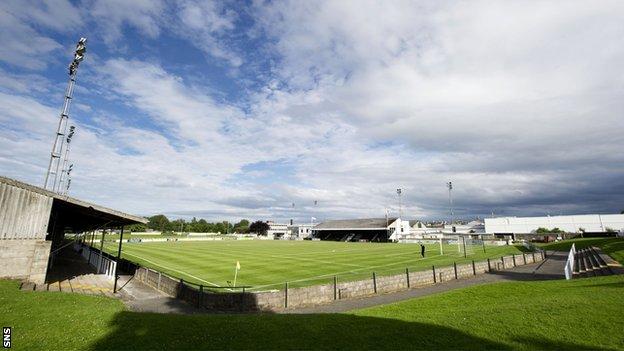 Elgin City have been fined £25,000 by the Scottish Football League following the postponement of the match against Rangers at Borough Briggs.
The Third Division game was due to be played on Sunday but was after what the SFL described as "a substantial oversale of tickets".
One fifth of the fine imposed will be donated to a charity chosen by Rangers.
And the Ibrox club will also be reimbursed by Elgin for any costs they incurred relating to the match.
A reported 1,100 extra tickets were sold on top of the 4,520 capacity of Elgin's ground.
A statement from the SFL read: "The board of the SFL have found Elgin City FC to have breached Rule 98.4 and Rule 44.5 of the organisation's Constitution and Rules.
"The club have been ordered to pay a fine of £25,000 to the Scottish Football League, £5,000 of which will be donated to a charity chosen by Rangers FC.
"Elgin City FC have also been ordered to pay compensation to Rangers FC of an amount no less than the actual costs incurred by that club in the preparation and planning of this match, these expenses to be satisfactorily vouched to the board of the SFL.
"The Scottish Football League would like to stress in the strongest terms that safety of fans is our number one priority, and that all clubs must adhere to the officially sanctioned ground capacity as agreed with the authorities.
"The date of the rearranged match will be announced later this week."
Elgin chairman Graham Tatters admitted to a sense of relief that the punishment was financial.
"My instant reaction is one of relief that we have not incurred a points deduction," he told BBC Scotland.
"The players have done very well this season and I'm glad they won't be punished as a result of this situation."
Tatters also said that the club's board would meet to decide whether to appeal the SFL's decision.
"We will have a board meeting tomorrow evening, when the two directors who attended the SFL hearing will provide an update as to how the things at Hampden unfolded.
"After that we will make a decision on whether or not we have grounds to appeal the SFL's decision.
"But we know that if we appeal and it is not upheld the club could be hit with further punishment," he said.