Champions League may have 64 clubs & Europa League scrapped
Last updated on .From the section Football836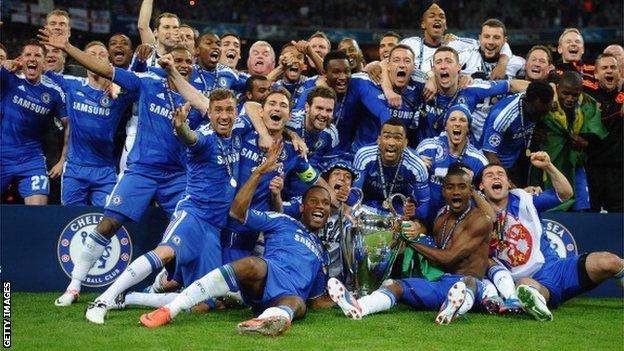 European football's governing body Uefa is considering ditching the Europa League in favour of extending the Champions League from 32 to 64 teams.
It means seven English clubs and five Scottish teams could enter at a qualifying round stage.
Uefa is looking at changing the format of European competitions from 2015.
"There is an ongoing debate to determine what form the European competitions will have between 2015 and 2018," added Platini.
An extension of the group stages to a 64-team format could see seven English clubs qualify for the competition rather than the current four, and increase the number of Scottish teams participating from two to five.
The Europa League has been criticised by some since it replaced the Uefa Cup in 2009 and exists in the shadow of the more lucrative Champions League.
Last week, Newcastle manager Alan Pardew said the Europa League was more difficult to negotiate than the Champions League because of its "heavier schedule" and Thursday night kick-offs.
Despite that, Tottenham manager Andre Villas-Boas - who won the competition with Porto in 2011 - has said he could not understand why the tournament was viewed as a punishment in England.
The Champions League is far more financially beneficial, for Uefa and the clubs concerned, than Europe's second-tier tournament.
Europe's governing body earned about £800m more from the Champions League than the Europa League last season, while Chelsea made £49m by winning the Champions League in 2012.
Manchester United, who were knocked out in the Champions League group stages last year, received £28m. By comparison, last season's Europa League winners, Atletico Madrid, earned £8.5m in prize money and Fulham, knocked out of the group stages, won £2.2m.
It has been reported that Europe's richest clubs will form a breakaway European league if the Champions League is not expanded.
Barcelona president Sandro Rosell said earlier this month that he would like to cut the number of teams competing in the top tier of domestic leagues and increase the number of clubs in the Champions League.
But Platini, a former France international, said he was not worried by talk of a tournament to rival the Champions League being set up.
"It's a question that is regularly brought up," he said.
"I can't see how it could work outside the Uefa framework. Who will referee them? In what stadiums will they play?"