Rhys Jordan transfer creates problems for Guernsey FC
Last updated on .From the section Football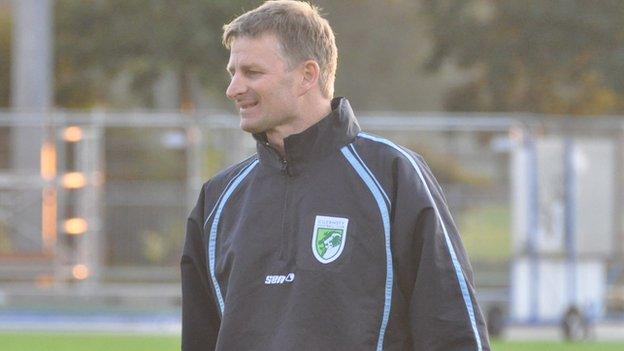 Guernsey FC boss Tony Vance says losing Rhys Jordan is a blow, but he would not have blocked
Jordan, 18, has signed with the Robins until the summer, leaving Vance with even fewer options in midfield.
while Ben Coulter is away travelling.
"With the injury to Ryan, Rhys would have been an ideal player to take on the responsibility for the team," Vance told BBC Guernsey.
But Vance says his side, who are challenging for top spot in the Combined Counties League, will be able to cope without the former New Zealand Under-17 international.
"There are a few players who can step up and we've got a strong squad, so there's many options we can look at depending on how we decide we want to play," the manager said.
"There's no way that I would be selfish in any way whatsoever about it.
"In fact it was quite the opposite, I tried to help as much as I can to push him into that environment."
And Vance says the Guernsey FC model of an island side playing in an English league has contributed to Jordan's success.
"Ability-wise he certainly had that, but one of the things over here is that you can come into a comfort zone in Guernsey," he said.
"If the competition levels aren't there you'll just go through the motions.
"The environment that Guernsey FC creates is a competitive environment week in, week out, and it makes you be your best, be that fitness-wise, attitude-wise or ability-wise.
"He definitely had the ability, it's just that Guernsey FC has pushed him a bit more than the local leagues would have done.
"It's something that we set our stall out to do and as a team we're doing quite well and the individuals are pushing themselves as well."