Plymouth director of football will be a success - Colin Sexstone
By Brent Pilnick
BBC South West Sport
Last updated on .From the section Football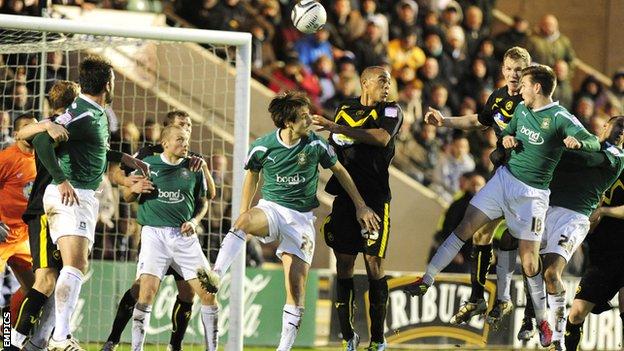 Plymouth Argyle director Colin Sexstone says he is confident that the club's new director of football will prove to be a success.
Argyle although manager Carl Fletcher will still have control of the team.
"There's a number of clubs that are running this model very successfully," Sexstone told BBC South West Sport.
"Plymouth are starting on a road that I think will be quite common."
Argyle are 20th in League Two, just one point above the relegation places, and have not won in the last eight games, losing seven of them and drawing the other.
But Sexstone says sacking Fletcher is not an option, and bringing in a director of football is not designed to try to force the former Argyle captain out of the club.
"Continuity, from my experience, is very important ,"he said.
"Just changing the whole management structure, and with it often the players, doesn't necessarily bring you success, it can make your problems worse.
"We've got a young and very talented, and potentially very good, manager.
"But he is very young and an experienced football man coming in will be a help to the manager and the new board.
"Often boards don't have someone with real football experience that will report to them directly and I think that's the advantage of the director of football."
but his role until the summer was more of a mentor for Fletcher rather than someone running the entire football side of the club.
Sexstone says he expects to have a lot of applicants for the job, which he says would suit someone who has managed in the Football League for quite some time.
"We're certainly looking for an experienced football man who's probably, although not definitely, been a manager, but someone who's now not looking to be a manager again.
"With the changes that are happening in football you'll see this more and more whereby clubs, in particular with the financial pressures they are facing, will want to try to control that football budget much tighter than they've been doing in the past.
"They might be called technical director or sporting director, but they all do the same thing," he said.