Stockport County to run Edgeley Park on day-to-day basis
Last updated on .From the section Football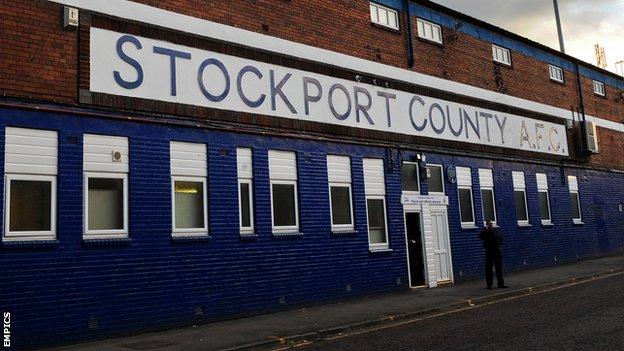 Stockport County have reached an agreement with Cheshire Sport to run Edgeley Park on a day-to-day basis.
Cheshire Sport, a company set up by Sale Sharks co-owner Brian Kennedy in 2003 to oversee both teams, remains the owner of the ground.
But it has reduced County's rent payments by 65% and handed full control of the running of the stadium to the Blue Square Bet Premier football club.
Chairman Lord Snape called it a "great day in the history of the club".
Stockport and Sale began sharing Edgeley Park in 2003 when the two clubs merged.
Kennedy later ended his involvement with County, and the Sharks home of rugby league side Salford City Reds, at the start of the season.
Snape continued: "Both Brian and Ian could not have been more helpful or accommodating in affording us the deal to run Edgeley Park.
"We, as a football club, can now move forward in the knowledge that all monies generated at Edgeley Park are ours. The generous rent reduction we have negotiated with Brian and Ian is so important to helping the football club."
Sale co-owner Ian Blackhurst, who is also the chairman of Cheshire Sport, added: "Hopefully, with the deal in place, the club will go on from strength to strength and ultimately regain their place in the Football League.
"The club and their loyal supporters have wanted to run the stadium for a long time and, with the affordable rental agreement, the club's future is looking bright.
"We are reassured by the board of Stockport County that they have a business model that works. Both Brian and I wish the club all the very best in the future."