Swindon midfielder Alan Navarro patient on injury comeback
Last updated on .From the section Football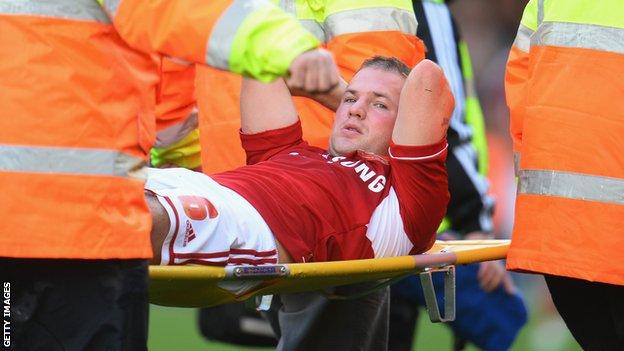 Swindon midfielder Alan Navarro says he will not rush his return to the first-team and risk a setback in his recovery from injury.
He returned to training this week but told BBC Wiltshire: "I'm not going to put a time on it.
"Any sort of setback can put you back to square one."
He continued: "People don't realise that when you do these injuries the first month to six weeks is the easiest part because you just accept it and there's nothing you can do.
"It's when you're close to getting back that's the hardest. I've been close to being fit and I'm chomping at the bit to be ready.
"I like to do targets but the fitness coach here says no targets. That's because if you set one and you don't reach it, you get so down. He said I should take it day by day and that's what I'm going to do."
Navarro is even more cautious about his comeback after suffering two serious cruciate injuries during his time with Tranmere and Brighton, which kept him out for eight months at a time.
And the Liverpool-born player feared he had incurred the same problem when we was carried off on a stretcher against the Sky Blues.
"It was either a pop or a crack, but I knew something wasn't right," he recalled. "I was thinking because I'd done the cruciate before 'is it something to do with that?'
"It was a relief and I'm lucky to only be out for six weeks."
Navarro joined Swindon in the summer and has made nine starts and three substitute appearances - but has only managed a full 90 minutes on one occasion.
Despite his injury setback, he is determined to reclaim a first-team spot.
"It's not easy as the boys are playing well so I've got to fight for my place," he said. "I'm not expecting to go back in the team, even in the squad.
"That's what football is about - you've got to fight for your place every day in training and every time you pull the shirt on.
"I'm just looking to compete to be part of the squad again. When I am ready and I get the shout then it will be a relief."